*The following piece is a satirical story, regarding Mrs. Pence's new cause as second lady; it is strictly meant for entertainment purposes and is not based on factual evidence.
This past week Karen Pence announced her fantastic cause to all of America: Art Therapy. The water colorist herself admit that she feels art therapy is "under looked" and "not well respected." When interviewed by a few reporters following her announcement, Karen knew exactly how to answer.

"So Mrs. Pence, would you like to tell us a bit about your new cause? We would love to know."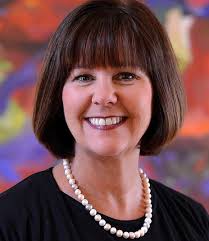 Karen Pence, looking a bit blank, twiddled with her skirt and answered: "Yes, the cause is great. One of a kind. You see our main motivation is to help the kids in art therapy find the cause of their suffering and draw it out to relieve their pain. I think it's such a beautiful thing since we are helping so many refugees. We just make them draw out what they're suffering and they feel so much better. It's a beautiful cause really." Karen gave a bright white toothed smile to the camera as she prepared for the next question.
"Yes Mrs. Pence, we are so glad that you found the cause that really fits you! We are sure the refugees are feeling very safe under your control and very happy. Now we have brought Amena here, an eight year old youth under your supervision of the program. She has told us she would be glad to answer any questions. So Amena, what can you tell us about Mrs. Pence's amazing help at the clinic?"
"Mrs. Pence is absolutely amazing. We are so grateful to have a woman who truly understands us. She just knows exactly how to make us feel more at home. Her work is great and I am feeling more at home, every day! Thank you Mrs. Pence for all your hard work." Amena responded to the cameras.
"Amena, it is truly my pleasure to know I am helping all refugees feel good about themselves. I always knew that the Trump Pence campaign would have a huge impact and it surely is!" Mrs. Pence clasped her hands together.
The reporters inquired her again: "So Mrs. Pence, we also want to check in on how it's going- you know- with the presidency so far. How do you think your husband is making out as Vice President?"
"My husband is doing a fantastic job. With Trump, they are truly making America great again!" Mrs. Pence answered.
"Indeed. And what made you choose art therapy as your cause again?" The interviewer asked.
But Mrs. Pence was not at all caught off guard as she answered: "The children. I am doing this for the children. They need someone as they go through such a difficult time in their lives. You know, someone who gets them. I feel I am doing an excellent job to help these kids feel safe for the time being."
"Yes Mrs. Pence, we are sure you are doing a fine job. Thank you again for your amazing help in America and we are sad to say but that is all it for tonight folks!" The cameras clicked off.
The reporters got ready to go as they met Amena at the door. She in fact had such a beautiful picture drawn! But not of Syria- the amazing Mrs. Pence- who we all love so dearly.