WGA Strike: What Does it Mean?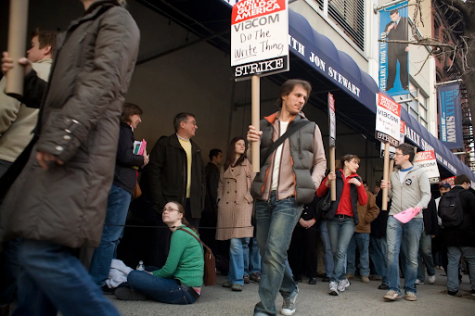 The Writers Guild of America (WGA), established in 1933, represents many of Hollywood's most coveted television and film writers. On Tuesday, May 2nd, the WGA officially went on strike. This is not the first time the guild has gone on strike, the last time being a 100-day-long strike in 2007-2008 (USA Today). Over the past three weeks, writers from both the West and East branches of the WGA have taken to the streets, but what does this mean for TV shows and movies? 
The decision to go on strike came from the Alliance of Motion Picture and Television Producers' failure to agree on a contract. Essentially— writers are fighting to be paid more. Since the last WGA strike in 2008, the TV and Film industry scene has drastically changed pace. What used to be primarily focused on box-office sales and traditional TV viewing has now completely been taken over by streaming services. The entire face of the industry has changed—especially in light of the pandemic, but the way in which writers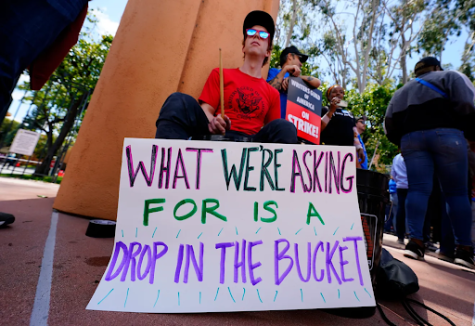 are being compensated, they say, has not. The issue has become dire, with even well-established writers finding themselves having to supplement their income because they are not being sufficiently compensated for their work.  The existing contract, which expired at 12:01 am on Tuesday, May 2nd, set the minimum pay for writers at roughly $7,400 a week. The rise of streaming services, however, has changed the working time for writers, resulting in unfair compensation rates (NY Times).
Prior to the emergence of streaming services, network television shows would run for up to 26 episodes, which calculates to 40 weeks of work for writers. Streaming services, though, have seen much shorter running seasons on most shows— typically running about 8-12 episodes per season, which is only 24 work weeks for writers. Additionally, writers used to be able to earn residual pay from their shows being aired over time as reruns. Platforms like Netflix have capped the amount of residual pay given to writers, but have kept the data hidden, giving writers no way of knowing whether or not they are being paid a fair residual (NY Times). Thus, guild members are seeking a contract that ensures they receive fair and reasonable compensation for their work.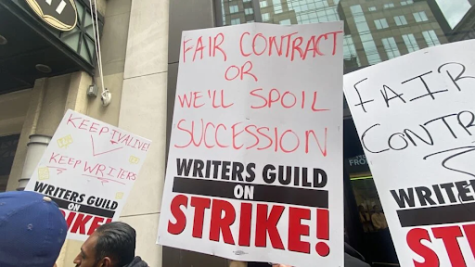 The effects of the strike are already being felt by daytime and late-night talk show hosts. Shows such as "The Tonight Show" hosted by Jimmy Fallon cannot function without their writers. Hosts like Jimmy Fallon as well as Saturday Night Live base their shows on the work of their writers each day; without them, the show cannot run. As for streaming shows, because production is much slower, many popular ongoing shows have already filmed the rest of their season, but it cannot be said whether or not the strike will affect the further production of shows set to be filmed in the coming weeks or months. Many members of the Screen Actors Guild may also refuse to participate in productions scheduled as a result of the strike (USA Today). 
Members of the guild continue to express their frustrations with the lack of action being taken to ensure they are being fairly paid for their work. The feud between WGA and AMPTP and the resulting strike has only highlighted the importance of writers and the unfair treatment and compensation they have been receiving for years on end. The tide of the TV and film world has been changing for years, and it is time that writers are accurately compensated for the invaluable work they do.