Arts and Review: A Review of Broadway's "Funny Girl"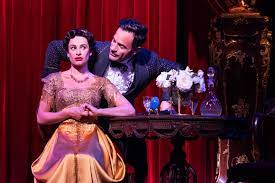 There are some movies, shows, and performances so impressive that they will always stick with you, and Broadway's "Funny Girl" is one of them. The play was so phenomenal that once the curtains closed signaling the end of the play, I realized that my mouth had been hanging open from awe throughout the entire play. I truly cannot implore you to see "Funny Girl" enough. 
You may know the leading actress, Lea Michele, as Fanny Brice, from the show Glee. Michele's voice is truly once in a generation: her singing is impeccable and her range is beyond belief. Michele's performance was so impressive that any scene not featuring the actress felt drab and incomplete. As the curtains closed for intermission, and eventually at the play's end, the audience erupted into praise for Michele. Whenever I left my seat, whether to buy a snack or to go to the bathroom, several strangers came up to me saying "Isn't she amazing?" Leah Michele is what makes this play so astounding. Anyone who sees her would agree that she was "born" to play Fanny Brice.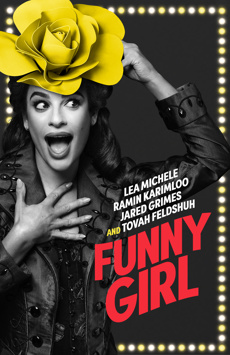 Though Lea Michele's performance soared above all else in the play, that isn't to say her cast members don't deserve some props. Her love interest, Nick Arnstein, played by Ramin Karimloo, has a great voice as well. He and Michele shared fantastic chemistry which made the play all the more captivating. Broadway legend Tovah Feldshuh played Fanny Brice's mom. She gave a spunky, amusing performance. It is clear to see that each and every cast member is truly having fun on the stage, more so than in any other show I have seen in the past. As a result of the cast's bouncy attitude, joy and smiles are present and contagious in the theater throughout the show. 
The performance aside, the plot itself was captivating and inspiring. In it, Fanny Brice is an aspiring actress, with an astounding voice, of course, who no one takes seriously. Throughout the play, she deals with balancing love and her career. This story warns the audience of the potency of love, and its tendency to blur a person's faults. It encourages people to look within themselves and do what makes them happy instead of what pleases others. These are themes that everyone can empathize with and relate to. 
Without a doubt, "Funny Girl" is a remarkable and unforgettable production thanks to Lea Michele's unbelievable acting and singing. I urge anyone and everyone to see it if they can. This story is universal; it can be understood and will be loved by anyone young or old.