How the Damar Hamlin Situation Extends Deeper than Football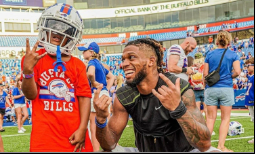 On January 2nd, 2023, it seemed like time had stopped as Damar Hamlin collapsed in the Buffalo Bills – Cincinnati Bengals football game. Hamlin, a safety for the Bills, went to make a routine tackle against Bengals receiver Tee Higgins. Standing up for a couple of seconds after the play, Hamlin stiffly fell back onto the turf, collapsing due to a one-in-a-million chance of a sudden cardiac arrest: Commotio Cordis. Commotio Cordis is when there is a sudden hit to the heart at an exact time when it's beating, which can lead to cardiac arrest. Most people when this happens would collapse immediately, but due to Hamlin's tremendous physical shape, he stood up for a second before falling down again.  His heart had stopped, but thankfully was revived on the field and taken away to Cincinnati Medical Center. Hamlin being in as good of a condition as he was helped in resuscitating his heart too. 
 The contest between the two teams was canceled, and people were frightened as Hamlin's life had been jeopardized while playing.  Thankfully since that fateful day, Hamlin's condition has done a complete 180 and has recently been discharged from the Hospital altogether to gradually heal in Buffalo. While he was in the hospital, he face-timed and called his teammates to assure them he was doing okay, and even "set off every alarm in the I.C.U" (New York Times) after he found out his team scored a kickoff return touchdown in their game that next week. The recovery and love that Hamlin has had since his injury has been nothing short of amazing either. His charity, the "Chasing M's" Foundation has raised over 8 million dollars, with donations coming from notable NFL players as well as die-hard Bills fans. NFL fields had outlined the 3 on their 30-yard lines in Buffalo Bills colors as a tribute as well.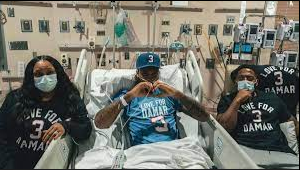 Even though Hamlin's recovery has been good so far, his injury still sets precedents for the rules and regulations that the NFL should have with their athletes. At the end of the day, football is one the most dangerous sports to play: Period. And as someone who has played football for their whole life, I have suffered countless injuries. My coaches always told me that I  needed to tackle correctly so I wouldn't be suffering the consequences if anything bad happened. While my broken bones and torn ligaments have been nothing compared to sudden cardiac arrest, football is undoubtedly dangerous. Every NFL player will get injured in their career, and will also experience tremendous amounts of CTE (Chronic Traumatic Encephalopathy). The NFL has created new helmets that help prevent vast amounts of CTE, but sometimes injuries like Hamlin's happen out of nowhere and shock the world. People have also suggested that the NFL has shorter seasons, along with football at the high school and collegiate levels. This prevents the long-term effects of CTE and boosts the overall health of the players.  Hamlin's injury is a reminder that football is an immensely dangerous sport to play. 
As a football player and sports fan, I am by no means saying that football should be banned or people should not participate in it. People just need to be careful in what they do and how they can heal their bodies so injuries like Hamlin's and ones in the past can be prevented for people going forward.