Dropping down from last year's American Division, the James Calwell Soccer Team is now playing in the Liberty Division. Despite being placed in a lower division, the conference is still highly competitive with strong teams such as Montclair Kimberly Academy and Millburn.  The Chiefs opened up to a rough season with a losing record of 1-4, but continued to fight through each game and eventually earned a record of 6-6.  The future is beginning to look bright for Caldwell Soccer.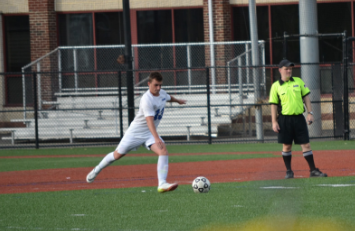 With consecutive wins on the board, there must be goals being scored. Some players on the team that consistently find the back of net are TJ Hreniuk, Daniel Cavallo, and Alex Nicol. First year Varsity player Danny Cavallo, a junior, has been able to net a total of  8 goals. Senior player, TJ Hreniuk, is a pacey forward who has racked up a total of 9 goals thus far. Senior captain Alex Nicol, a very skillful and smart player, has also found the back of the net a total of 9 times. When it comes to goal scoring, the team looks fine. But like always, the best offense is a good defense.
Starting goalkeeper, Connor Reddan, has been able to hold down the fort with 3 shutouts and 50 saves thus far. If the Chiefs play consistently for the rest of the season, it would not be a surprise if they are seen as a threat to others and are able to make it into the deeper rounds of the state tournament.