Review and Highlights of the 2023 JCHS Coffee House
Every year, JCHS hosts the annual Coffee House where students can showcase their talents. This year, we had more than 15 amazing acts. Performances were held from 7 to around 9 on Friday, May 13th in the school's cafeteria. Tickets were sold, and snacks and drinks were served by the junior class of 2024 to raise money for their class. While all performances were excellent, here are a few highlights of the night:
Gianna LaBianca explained why they chose to sing "Sparks": "We were originally going to sing 'Love Song' by Sara Bareilles but we realized that it was too fast and upbeat and didn't fit the vibe of the Coffee House. We thought 'Sparks' would be the perfect song because it was easy to do 3 parts on and fit the vibe of the Coffee House, because it's very slow. We practiced the song for two days and it was easy to practice with my friends since we all understand music as we are all in chorus. It was such a fun experience."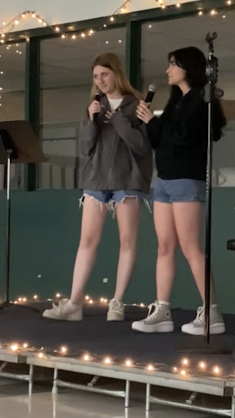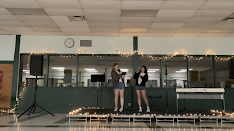 Lastly, with a show stopping performance Hayden Levine and Gabby Patino performed "Man or Muppet" from The Muppets movie. Towards the end of the song Hayden and Gabby revealed their shirts that said "Man" and "Muppet" while the audience erupted in applause. 
Marisa Brown, a senior that attended the Coffee House commented on her experience:
"My favorite part of the Coffee House was Gabby and Hayden's song because it was funny and the whole crowd got into it. They put on a whole show with the shirts and I really enjoyed it. I like going to the coffee house, because I like seeing everyone's talents. Each year, you get to see people do things you wouldn't have known they could do. I didn't know so many people in my grade were so talented!"