Spring Track Season in Review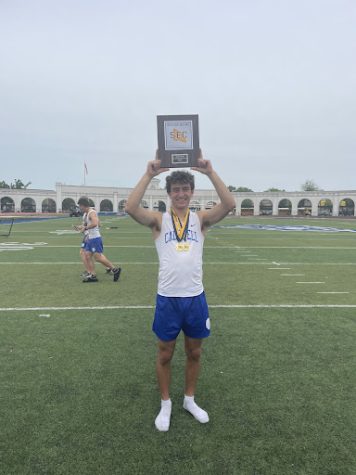 After doing tennis for my first three years, I decided to switch to Spring Track. I have been doing Winter Track since I was a freshman and wanted to experience a spring season. On the first day of practice, I was completely shocked by how many people were there. Over 80 students were there, but after the first couple weeks I'd say about 50 people were still doing the sport. That's still an insane number compared to other sports.
Regular Season
Caldwell competes in the Colonial Division which is part of the Super Essex Conference. This year the boys track team was led by seniors Lucas Lattimer, Ahmed Kalbouneh, Dominic Vandermolen, juniors Matthew Soder, Quinton Caravela, and sophomore Benjamin Lattimer. In the regular season the Chiefs finished with an undefeated record of 8-0. The schools we defeated in the meets included Verona, Montclair Kimberley Academy (MKA), and Payne Tech. On the other hand, the girls track team was led by Seniors Hannah Morgan, Julia Canonaco, Mya Rivera, and juniors Ava Schott, Paige Adams, and Emma Christiana. They finished with a regular season record of 8-1 with wins over Mount Saint Dominic Academy (MSDA), Science Park, and Newark Tech.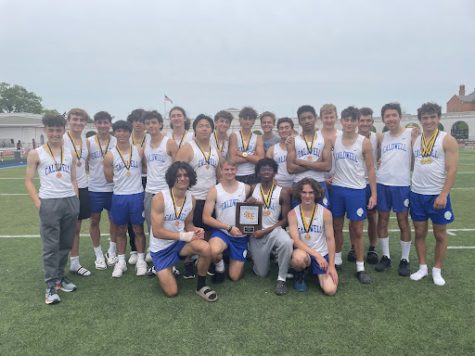 Essex County Relays
Caldwell went to Livingston High School to compete against all the other teams in the county. The boys team received medals in the 3 by 400 hurdles, 4 by 800, sprint medley relay, distance medley relay, and shotput. Overall, the team finished 9th beating out teams like West Orange, MKA, and Millburn. The girls team received medals in the 4 by 800, distance medley relay, and the girls javelin finals (3rd and 6th place). The girls team also finished in 9th place ahead of MSDA, Verona, and Irvington High School.