A Look Into the "Super Bowl of Fashion," The Met Gala
On May 1st, the long-awaited Met Gala celebrated the legacy of Karl Lagerfeld with the theme: "Karl Lagerfeld: A Line of Beauty."  The annual affair honored Lagerfeld's involvement in the fashion industry, featuring designs from Chanel, Fendi, and Tommy Hilfiger.  This year's Met Gala was hosted by a mix of celebrities, including Dua Lipa, Emma Chamberlain, Penelope Cruz, and of course Anna Wintour.  Just as important as the theme of the exhibition, the star-studded looks from the red carpet create a memorable night for attendees and viewers, dubbing the experience as the "Super Bowl of Fashion."  Below are some fan-favorite celebrity looks from night, earning themselves a spot on Vogue's official 2023 Met Gala best dressed list.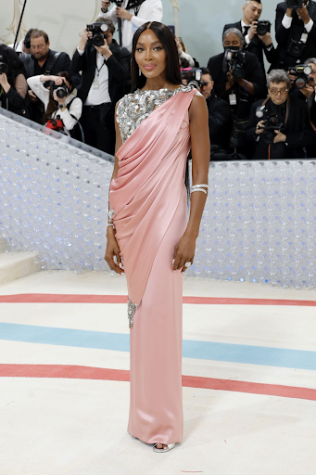 Naomi Campbell in vintage Chanel
Naomi Campbell nodded to Karl Lagerfeld by stepping into one of his own creations, a vintage Chanel gown.  She chose a pink satin gown with jeweled details from Chanel's spring 2010 collection.  With this look, Campbell mastered both the chic and elegant aspect of the Met Gala.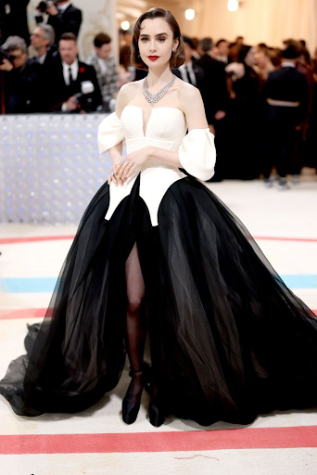 Lily Collins in Vera Wang
Lily Collins's look embodied the idea of modern designers, like Vera Wang, putting their own spin on Lagerfeld's work.  The actress wore a striking dress that was made up of a white corset and flowing black skirt.  What really made the dress, however, was the detail of the words "Karl" sewn into the train of the skirt, perfectly representing the theme of the night.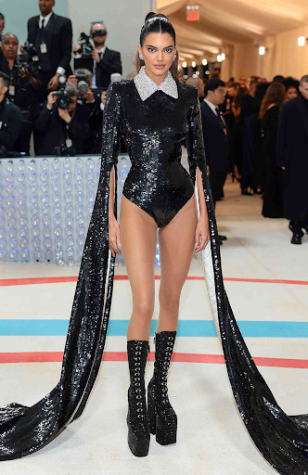 Kendall Jenner in Marc Jacobs
An annual guest of the Met Gala, Kendall Jenner definitely did not disappoint this year.  Jenner supported Lagerfeld's "black and white" fashion legacy with a black Marc Jacobs bodysuit covered in sequins.  The statement included extra-long sleeves with white linings that trailed behind her like a split cape.  Jenner also sported a pair of lace-up platform boots to match the glimmering bodysuit.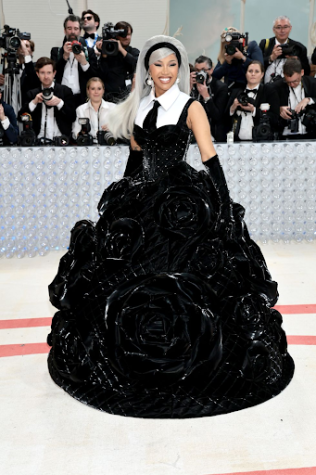 Cardi B in Chenpeng Studio
Cardi B strutted in a structured ball gown by Chenpeng Studio, which began with a white shirt collar and tie before transitioning into a fitted black sweetheart corset with silver studs.  The black corset was covered in huge sculptural roses, paired with black opera gloves and a leather headband.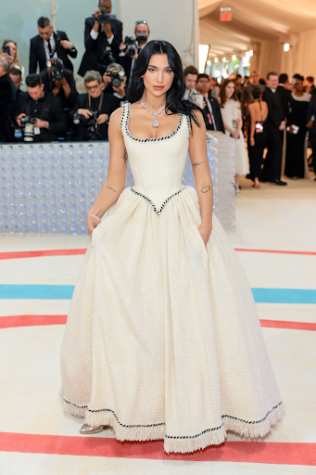 Dua Lipa in Chanel
The popstar appeared on the carpeted steps in a 1992 white bridal dress designed by Chanel famously worn by Claudia Schiffer, with a flattering corset-style waist, woven black trim, and fringe hem.  Dua Lipa paired this classic, yet elegant, dress with an assortment of diamond accessories by Tiffany & Co.