Lasting Memories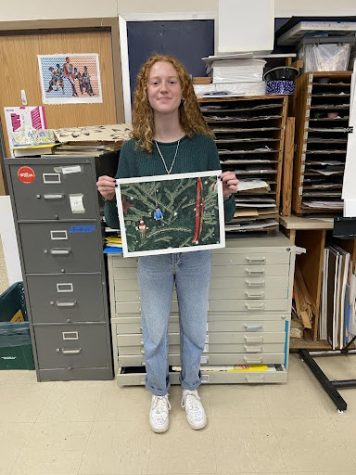 With two months left until the AP Art Portfolio is due, students are busy with work in order to finish their pieces. In order to honor their hard work every month we will continue to showcase two students. For now, let's take a look at the work of Hannah Morgan. We will showcase the meanings, processes, and materials behind each of Hannah's marvelous pieces. 
Hannah's sustained investigation explores the idea of family. Her pieces focus on the sentimental, nostalgic, and homey feelings and memories associated with family. She wanted to focus on the consistent memories throughout her life, like her family, vacations to the Lake, and Christmas at home. While creating her pieces Hannah was inspired by other famous artists like David Hockney, a famous English painter, draftsman, printmaker, stage designer, and photographer.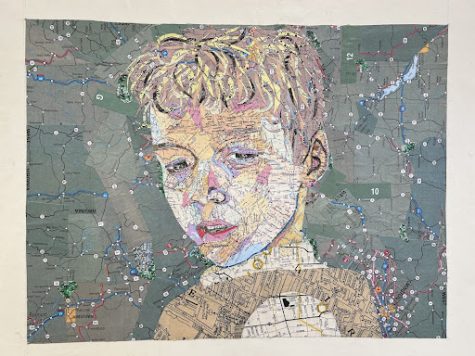 Title: Hank
Medium: Word Atlases, Road Maps, Old Maps from the 70s
Meaning: This first piece was originally done as an experiment and involved lots of trial and error. In the end, this piece became the inspiration to continue using mixed media and collages throughout her whole portfolio. This image was chosen because it is one of Hannah's favorite images of her brother and is very special to her. In the picture, Hank is wearing a life vest from when they were vacationing at the Lakehouse. The annual lake house vacation is a fond memory and is seen a few times throughout the portfolio.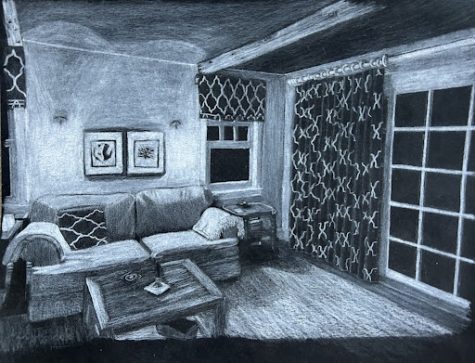 Title: The Den
Medium: Black Paper and White colored Pencils 
Meaning: The den in Hannah's house is a very meaningful place for her because of the memories attached to it. It is where her family always gathers and spends time together, where they eat dinner there, where they watch TV together there, and where they gather with the whole family during the holidays. In this piece, Hannah paid specific focus to the details and textures. She wanted it to feel like the viewer was transported into the den, feeling the comfy homeyness of the couch and looking at the wrinkles in the curtains.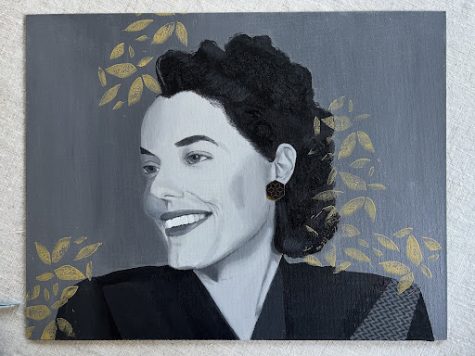 Title: Lily
Medium: Acrylic on Canvas, Gold leaf stamps, fabric 
Meaning: This is an acrylic portrait of Hanna's Grandma, Lily. Lily was an artist and painted portraits of people for a living. She mostly did oil and her art is showcased in all the family's houses. In this piece, Hannah wanted to showcase Lilies' beauty through the portrait. In a sense, the piece itself is like parroting Lilies own work. It meant a lot to Hannah to get Lily looking right because Lily was an artist herself, she wanted to do her justice and didn't want to disappoint the family. Hannah incorporated different types of material in this piece as well. She used gold leaf stamps for the leaves around her and fabric for her earrings once again tying the mixed media theme through her portfolio.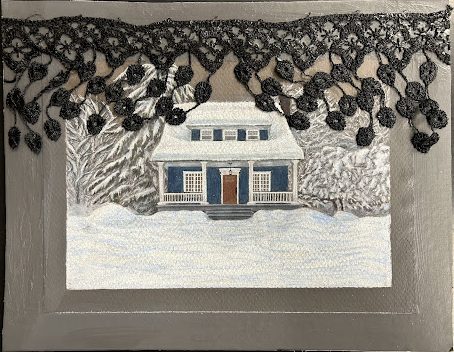 Title: Blue House in the Snow
Medium: Colored Pencil on paper, lace fabric
Meaning: In this piece Hannah wanted the viewer to feel like they were looking out their window on a snowy day, gazing upon Hannah's own home.  She used lace as a means to represent a curtain in front of the window on the viewer's end. To her, her house is her favorite place because all her family is there and it's a safe haven from the rest of the world and school.  Originally, she planned to draw the house in the spring but decided on snow because she had never drawn a snow scene before and it was something new. To create this piece Hannah combined parts of many images and had to keep her pencils extremely sharp the whole time to get into the tiny details.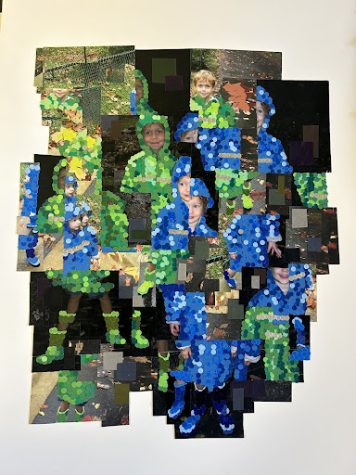 Title: Rainy Day Dots
Medium: Paper on foam board, photographs, multi-colored hole punches
Meaning: This piece was inspired by David Hockney and is an interpretation of one of Hannah's first memories. It's a fond memory of standing in the rain with her older brother Hank in the empty park. She specifically remembered the raincoat she was wearing and her dolphin boots. To create this collage, Hannah took three separate pictures in separate sizes and cut them up, and laid them down. She then whole-punched HUNDREDS of dots in varying colors and glued them on top of some of the photo clips. She used dots because they had a soft feel and reminded her of raindrops.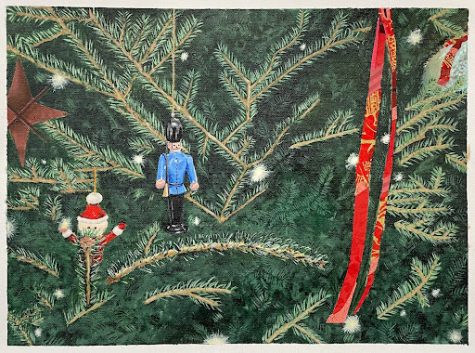 Title: Christmas Tree
Medium: Acrylic Paint on canvas paper, Gold, and Red paper
Meaning: At Hannah's house Christmas is a very special time! Hannah LOVES Christmas because it is very nostalgic. In this piece, she wanted to do a painting because she hadn't attempted one in a while and she wanted to prove to herself she could still do it. She explains that "It was definitely a trusting process type of piece and didn't come together until the very end". She Wanted it to be very polished and feel like you were almost standing in the tree. She also used red and gold paper for the ribbons on the ornaments to incorporate the mixed media theme and to make the ornaments feel more real.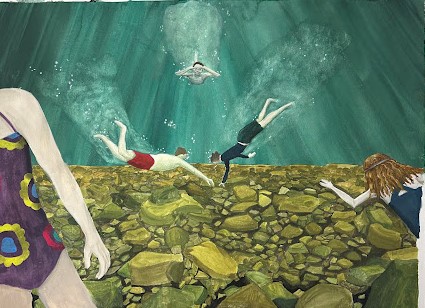 Title: "Do you wanna go swimming?"
Medium: Gouache on Mixed Media Paper
Meaning: This piece was also inspired by David Hockney. In this piece, Hannah put together a bunch of underwater pictures taken on an old disposable camera during one of her annual trips to the Lakehouse. The lake house is very important to her because her grandparents have always had it and she, her brother, and her cousin have always gone swimming there, making it a very nostalgic memory. In order to get the still, quiet, feeling of being underwater she used paler more muted colors. 
The AP Art Portfolio is due on May 5th so students have less than a month to finish up their portfolios. We can't wait to see what they will create next. Next month we will take a look into the work of Ceci Lamorou and explore why humans are so fascinated by their reflection! Stay Tuned!