A Review of Lana Del Rey's Ninth Studio Album: "Did You Know That There's a Tunnel Under Ocean Blvd"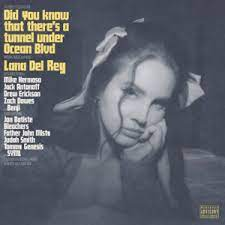 Lana Del Rey is one of the most influential artists of the generation. Her music is like no other, and she captures intense emotions and leaves her fans with many different interpretations of her work. All eight of her previous albums were successful and had a wide variety of listeners. However, "Did You Know That There's a Tunnel Under Ocean Blvd" is said to be her most raw and daring album. As a longtime Lana fan, I had been anticipating this album since its announcement in December of 2022. Many fans were also pleased that Jack Antonoff was producing this album, as he has put out many successful albums from Lana in the past. The album consists of sixteen songs and is about 1 hour and 18 minutes long. 
Right away, the first four tracks became very popular. The first two tracks were previously released as singles, titled "The Grants" and "Did you know that there's a tunnel under Ocean Blvd." The title track truly captures the authentic messages of the album, where Lana reminisces on a past relationship while still moving forward on her life path. It is a slower song with a sad tone, similar to many of Lana's songs on her album "Ultraviolence." The last single is track four on the album, "A&W." This song is definitely a fan favorite, and unlike any song Lana has ever released. "It's a psychedelic, collagist freakout that rides from exasperation — all the way through to the delirious liberation of accepting your status as a lifelong outcast" (Pitchfork Reviews). The song is over seven minutes long and highlights Lana's ability to sing R&B towards the last few minutes. Her lyrics are painful and allow for Lana to be very vulnerable about her experiences with relationships while being involved in the music industry. 
The album also has two interludes: Track 5 and Track 7. Although some listeners will skip through these, they are interesting to decode meanings and symbols that Del Rey included in her songs. Many of the song lyrics discuss her trauma, which can truly reach out to fans. "There's some rough stuff in here, perhaps needless to say. But it doesn't sound as tough, or scattered, or even unmusical as isolated lyric quotes might make it seem" (Chris William – Variety). One of my favorite parts of the album is the last track: "Taco Truck x VB,"  because it  samples elements of the song "Venice B**ch," one of my favorite Lana songs of all time since its release in 2019. This left me feeling nostalgic and more appreciative of both tracks.
It's rare that after eight successful albums that an artist can create something different that still pleases fans and listeners. However, Lana once again proved herself to be one of the most influential artists in the world. A month after the release, the album is still rising in popularity every day and fans are excited to see what else Del Rey has in store.