GCMS "Make a Difference Day" Successfully Honors Mr. Brown's Legacy
On Thursday, April 6, 2023, I had the honor of going to the middle school as the reporter for Grover Cleveland Middle School's "Make a Difference Day." The day was originally created by the late Principal Mr. Brown in 2019, who unfortunately passed away in 2020. Organizations and foundations from both James Caldwell High School and the state come in and teach students about service, clubs, and getting actively involved in their community. As a former GCMS student, I vaguely remember the clubs coming in and speaking. But coming back years later, I can see how Mr. Brown's vision and legacy have been more fully realized.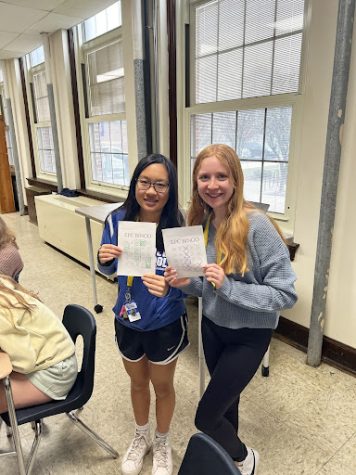 I started my day with James Caldwell High School's Environmental Protection Club, where they gave an educational presentation on their identity as a club, their motto, and what they do in the school. They showed photos of them tending to the school's gardens and working around the town picking up trash. The key takeaway from the presentation was that students could make a difference in their community through volunteer efforts. Ansh Razdan, a key member of the club, said during the presentation "One step forward is always a good step". After the presentation was finished, the club played bingo with the students. They would read out an environmentally sustainable action, and the kids would "X" off if they did it. When they got bingo, they would get little gardening prizes. I loved how open the club was to questions from the students, and they happily engaged in the bingo games. 
After the bingo game, I had a chance to interview a student and asked him about the importance of the EPC and our environment: "We should care about the environment so that plants can produce food, oxygen, and CO2," he said. It's great that the club came to the school to educate kids about the environment, and the students left the presentation more inclined to be environmentally friendly.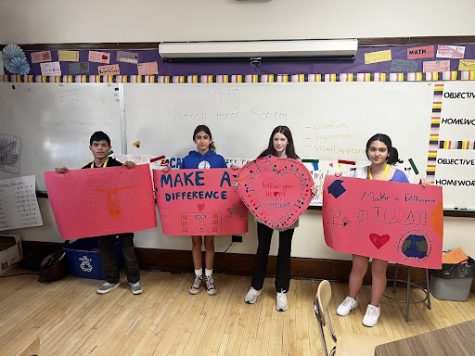 After the EPC performed its presentation, I moved on to where our school's National Honor Society presented its program and explained its different aspects: Academics, Character, and Service. Seniors Ray Zamloot, Luke Kurzum, Julia Canonaco, and Sophia Jiang told the students about the rigorous process of applying to NHS and the difficulties of getting in. But, they also explained how the NHS looks great on college applications and is a great way to give back to the community. For their activity, they had students create service posters as thank-yous for people protecting our community. Over the course of the day, many posters were made for people such as firefighters, military troops, and even "Make a Difference" posters. It was super inspiring to see kids learn about a prestigious program in our school and make posters that would make people's day. 
I also was able to catch our school's self-advocacy club speaking about its goals and overall message. They explained their club was a "Celebration of strengths and weaknesses, so they can help their friends and their peers." The club has done a multitude of service projects for the town, like making friends in the elementary schools, asking for their favorite books, and then going out and buying it for them. Their main goal is to make kids feel comfortable and be mentors to them in order to find their interests and share their stories. The activity the club had for their kids was a "Physician Personality Test" where the kids would identify their strengths through colored bands, and create a chain link of all the statements that they felt fit best. After they made their chains, all of the kids with similar personality types would sit together and talk about what their personalities meant to them. It was a great activity for those people who usually wouldn't talk to each other to engage in conversation.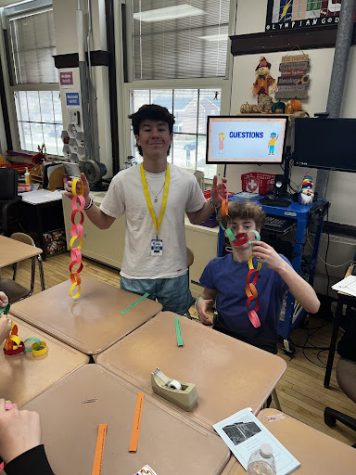 I had a chance to interview another student, and I asked her what the importance of self-advocacy was and how important it was for her and her friends. She gave me a phenomenal response, saying, "It's good to be positive about yourself. You should stand up for yourself and make your voice heard. It's inspiring to others to stick up for yourself and for other people." I loved seeing students come together from all backgrounds and speak based on having similar personalities. 
Going back to middle school was an amazing experience. It was great speaking with and seeing all of my old teachers. Seeing "Make a Difference Day" a couple of years later from when I was in middle school made me realize how important it is to expose children to community service at a young age. I was talking with my old eighth-grade English teacher, Ms. Salvanto, who was a key helper in creating Make a Difference Day with Mr. Brown. She said that Make a Difference Day was created through service leadership, a service class that all eighth graders are required to take.  "In eighth grade, there's service leadership, which is their first exposure to volunteer service," she said.  "They need to learn to respect people and give back. It's not about them, and they need to recognize that and they should make a difference in the world." 
The importance of "Make a Difference Day" shows that there are many avenues for kids to help out their town. Whether it was the JCHS Environmental Protection Club, National Honor Society, or Self-Advocacy Club, kids left school that day feeling more inspired and excited to perform acts of service. I think Mr. Brown would be proud of his creation and know that his legacy lives on.