JCHS Interact Club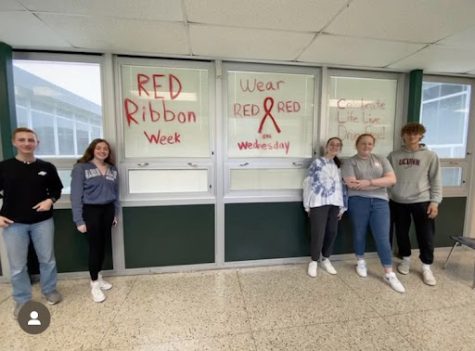 If you are a JCHS student, you may have heard of Interact Club. Interact Club is a service club that is sponsored by the Rotary Foundation, providing high school students with several opportunities to participate in meaningful service projects throughout the school year. The JCHS Interact Club not only focuses on helping worldwide organizations but also focuses on helping our local community. 
Since September of this year, JCHS Interact Club has given back to the community in multiple ways. At the very beginning of the school year, JCHS Interact Club sold baked goods at the annual Caldwell Street Fair, raising money for the Eleventh Hour Animal Shelter. In November, JCHS had another bake sale at JCHS after school, raising money for a Shoprite gift card given to the Caldwell Food Pantry. During the holiday season, JCHS Interact Club made holiday cards for seniors living at Crane's Mill and helped run craft stations at a holiday event at Jefferson Elementary School. In February, JCHS Interact Club hosted the annual Red Cross Blood Drive; students were able to volunteer by checking in blood donors and running the bake sale at the blood drive. JCHS Interact Club has also collected socks, juice boxes, and fruit snacks for a homeless shelter, and JCHS Interact Club has collected emergency goods such as blankets and canned goods for the Turkey-Syria earthquake victims. During the remainder of the year, Interact Club is planning on giving back to the community through multiple fundraisers and events, such as the End Hunger event hosted by the Rotary. 
Interact Club not only gives back to the community, but also provides great leadership opportunities for the board members of the club. As president of Interact Club, I have learned a lot about how to be a good leader and work well with other people. I have learned about the importance of having a balance between advocating for your own ideas while also listening to other members of the club and considering their ideas. I have also learned about the importance of helping other people in the community. Lia Vaiserman and Jordan Sang, two JCHS juniors who serve as vice presidents of Interact Club, said that it "helps us connect to many people and give back to our community by making a difference in others' lives." When you participate in service projects, you are not only making a positive difference in someone's life, but you are also going to feel good about yourself because you know that you are helping someone else out. 
Overall, I highly recommend joining Interact Club, especially if you want to participate in service projects throughout the school year. Interact club will not only provide you with potential leadership positions, but it will also give you multiple opportunities to volunteer and give back to the community.