Author: Colleen Hoover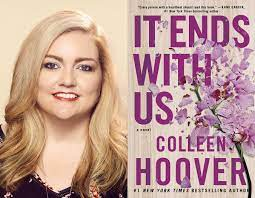 An author popular with all girls right now is Colleen Hoover. Hoover is a #1 New York Times bestselling author of twenty-four novels. Her novels fall into the New Adult and Young Adult contemporary romance categories. Two of her novels have won the Goodreads Choice Award for Best Romance. Hoover's novels have the reputation of being shocking with sensational plots. Whether it is a love triangle, enemies to lovers, or forbidden love, she gets all the girls obsessed with her male love interests. She creates the perfect man to want and not to want. Her books are hard to put down and leave you wanting more every time. 
I myself have read eight of her many novels. I consider myself a hopeless romantic when it comes to movies and books. I am a sucker for a good love story and any romantic trope. I can now gladly say I have found an author that does it all. I have finished all her books within a week. She captivates the reader to want more and be unable to put the book down. 
Her bestseller It Ends with Us will become a movie soon. This is one that has become an all-time favorite on Tik Tok or "Book Tok." It Ends with Us is a love story that includes a love triangle between the toxic father of the main character's child and her first love when she was a teenager. This book also has a sequel, It Starts with Us. I finished both in less than two weeks. I do prefer It Ends with Us over It Starts with Us but both books are great. The main character, Lily Bloom, will be played by Blake Lively, and the toxic love interest, Ryle, will be played by Justin Baldoni. Fans have many requests for who should play Atlas, the first love. Baldoni, who also directed and acted in Jane the Virgin, will also be assisting in directing It Ends with Us. However, as of now there is no release date for this movie. I know fans and myself can not wait for the day this movie comes out. 
Another favorite Hoover book of mine is November Nine. I have never read anything like this. This book spans the course of almost six years with a plot twist I never saw coming. This was one that was hard to put down. I finished this one in less than a week. 
The last one I will highlight is another favorite, Ugly Love. This is also a must-read that is mentioned all over Tik Tok. This one is more graphic and definitely for a more mature audience. This one also had a plot twist I could not imagine which left me jaw-dropped. I am continuously surprised by what Hoover throws at me.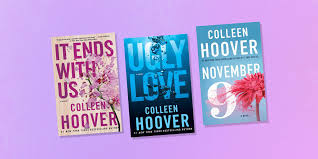 Hoover definitely knows how to appeal to an audience because my friends and I can't seem to put these books down. I will be ordering four more to continue my Colleen Hoover, while I wait for the release of It Ends with Us.