Super Bowl Halftime Show Review: Rihanna Shines Bright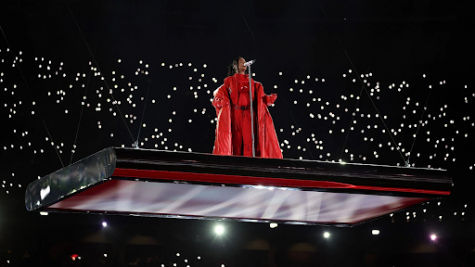 Some may consider the Super Bowl halftime show the biggest stage a musician can perform on. The Super Bowl has seen an average of around 106 million viewers over the past 13 years. This year's halftime show marks the first time that Apple Music has sponsored the event. This year, Rihanna opted to take the stage. The Super Bowl halftime show has famously been known to feature the world's biggest artists. Previous performers include Beyonce, Shakira, Jennifer Lopez, Madonna, The Weeknd, Lady Gaga, and many more. Rihanna has previously taken a break from the music industry. During her hiatus, she explored other business opportunities, such as her makeup brand, "Fenty Beauty" which is now valued at around $2.8 billion. Her last album, "Anti" was released in 2016, and since then, she has been absent from the music realm. She made a comeback by releasing two songs for the "Black Panther: Wakanda Forever" soundtrack, "Born Again" & "Lift Me Up." Her return to the stage has since been long awaited.
On February 12th, Rihanna took the stage. She appeared suspended 60 feet in the air singing her hit single, "B**** Better Have My Money." However, when the show began, viewers were shocked that Rihanna was showing an apparent baby bump. Representatives for her team later confirmed the news. She is now expecting her 2nd child with her partner, A$AP Rocky.
As the show went on, Rihanna continued to perform her countless hits. She incorporated choreography throughout her performances of songs "Rude Boy," "Pour it Up," etc. Dancers were spread throughout the massive football field. The dancers, along with the stage design, were definitely a highlight of this year's show. Many were expecting Rihanna to bring out a special guest. 
Many predicted that Jay-Z or DJ Khaled would make a surprise appearance. However, Rihanna opted to do the show solo. This makes her only the second woman to do this in history, alongside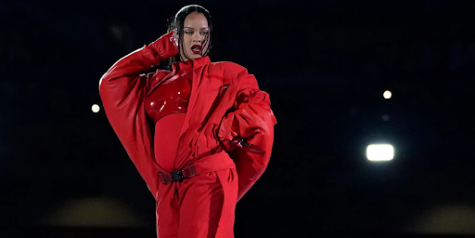 Lady Gaga's critically-acclaimed 2017 performance. The performance didn't end there.
As Rihanna sang "Diamonds," she was suspended even higher into the air, all while showing off her pregnant stomach. Fans in the stadium held up their flashlights, creating a beautiful shot. Rihanna's setlist also includes "Where Have You Been," "Only Girl In The World", "We Found Love", "Work", "Wild Thoughts", "Run This Town", "All Of The Lights" & "Umbrella."
 Many were critical of Rihanna for not including more of her hits like "SOS", "S&M", "Stay", and more. However, since artists have a time limit of 13-14 minutes, I don't think that she had the opportunity to include any more of her countless hits. Overall, I am impressed with the show that Rihanna put on the stage. I would even go as far as to say that it has successfully broken into my top 5 Super Bowl performances of all time. Many are now thinking… "Who will be chosen for next year's halftime show performance, and will they top the show Rihanna put on this year?"