Mock Trial at JCHS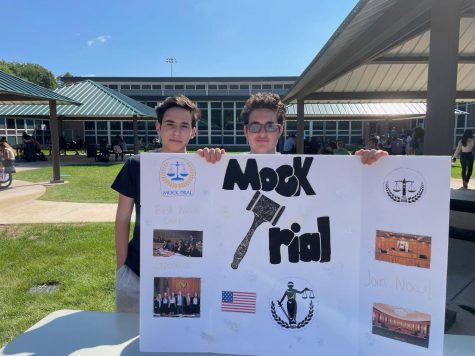 Mock Trial may be an unfamiliar name to many JCHS students. However, Mock Trial offers students one of the most powerful opportunities JCHS has to offer—a true courtroom experience. This year, JCHS's Mock Trial team traveled to the Veteran's Courthouse to take their case, Dylan Salerno v. Sam Arena, to court in-person for the first time since COVID-19 pandemic began. While they ultimately did not proceed to the following round, the Mock Trial team gained invaluable insights and learned many lessons in the trial process.
The Mock Trial team began its journey in October. Prior to the release of the case, the team, comprising eighteen students, deliberated some of the most pressing issues of the time: free speech, social media, and student loans. This laid the foundation for the intensive process of crafting arguments, formulating theories of the case, and understanding legal terminology in the months to come.
This year's case had a fascinating prompt: Rory Salerno, 17, had suddenly died after completing an Internet challenge of rapidly ingesting three highly caffeinated drinks in the presence of his older friend, Sam Arena. Rory's guardian, his grandfather Dylan Salerno, was suing Sam Arena on the grounds of negligence. But with Rory's undiagnosed heart condition, was it Sam Arena's negligence or unfortunate biology that led to Rory's death?
Under the guidance of Mr. Evan McLaughlin, the team's advisor-coach, and Joe Papasidero, Esq., the attorney-coach, the Mock Trial team split into two halves, defense and plaintiff. The plaintiff, led by attorneys Agostina Pieri and Alexandra Li, urged the jury to believe that Sam was "given all the signs he needed to know that this was a tragedy waiting to happen" (Li). The defense, led by attorneys Sophia Basile and Ryan Lieblein, argued that it was "Rory who decided his own fate… He prepared for the challenge and was determined to follow through no matter what" (Basile). 
Having competed in Mock Trial since my freshman year, I have come to appreciate that there are never just two sides to a story. Mock Trial has taught me that there are endless arguments, points, and considerations worth shining a light on. But what Mock Trial has taught me above all is that quality always trumps quantity. This year, what stood out most to me was that both the defense and plaintiff arguments excelled in this fact, using cohesive, cogent, and purposeful arguments to make their cases.
After scrimmaging in a state-wide practice, the Mock Trial team finally argued their case in Veteran's Courthouse. On Tuesday, January 31, the defense presented their case. The following Thursday, the plaintiff presented theirs. Though ultimately the Mock Trial team's run ended in a first-round defeat, the process of being able to physically argue their case, play witness, and receive feedback from real attorneys was invaluable in and of itself.
"Mock trial is a continuous process," said attorney Agostina Pieri. "The work never ends." Indeed, the Mock Trial team can look forward to another bright season next fall.