Dave's Hot Chicken Review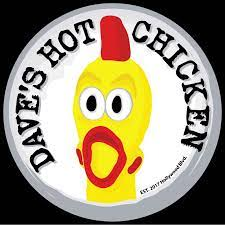 There's a new hot restaurant in the Willowbrook Mall area!  High schoolers love going around Willowbrook Mall to get something to eat, whether it is Chick-Fil-A, Shake Shack, Buffalo Wild Wings, or Cheesecake Factory; the area has so many options for people to choose from. They have added another great option in Dave's Hot Chicken to the list.  
This is the first Dave's that has opened in New Jersey.  The location in Wayne is just over a month old, opening on December 9th, 2022.  It is located in the Wayne Belt Plaza, across from AMC Theatres, and within walking distance of Willowbrook Mall.  The company started in East Hollywood in a parking lot with four friends.  Their chicken stands quickly became a hit within the streets of Hollywood, and one year later, they were able to open a shop in a strip mall.  They have recently started to spread out and open up locations all across the country.  
I went to Dave's for the first time at its grand opening with my friends.  The line was out of the door, and people were willing to wait, standing out in the freezing cold.  It was also past 8:00, so the hype and anticipation for this place were high.  We waited a bit over an hour to order, and after we ordered, we got our food and ate there.  I ordered a tender, a chicken sandwich, and fries.  I also chose the medium sauce to put on the chicken tender and sandwich.  It rounded out to around 18 dollars, and the food was super filling.  Considering it was the first day, the food was quite good as the chicken was not too saucy, but you still felt its flavor. The fries were excellent and fresh, and the tender had an excellent texture to it and was filled with fresh flavor.  It was good enough that we went back two times after, and I also tried their mac and cheese, which was good and had its own taste compared to other Mac and Cheese you can get at Chick-Fil-A or Panera. They also give you a delicious sauce that can work with any item on their menu, giving it a great flavor.  
One of my few complaints about Dave's is the money I spend there.  When you add up the order and get a drink, it rounds to $20 every time I go there.  Compared to Chick Fil A, I could probably get a similar meal for relatively less.  What I do like about Dave's is that they have a distinct flavor and distinct sauces, and it has filled me up every single time.  
If I had to rate it out of 10, I would give it an 8.8/10 with its only flaws being that I think it is slightly overpriced and sometimes the wait can be really long, although it has died down each time I went.  But overall, I would recommend that you go to Dave's Hot Chicken and give it a shot, especially if you are a fan of other chicken places such as Chick-Fil-A.