Revealing My Skincare Secrets
The skincare industry has grown as celebrities and influencers have opened up about their intricate routines and revealed the secrets to their glowing skin. However, skincare can be affordable and accessible for everyday people who cannot dedicate hours a day to an extensive ritual or access a collection of extravagant products. Dermatologists have found that drugstore products and a simple routine are more effective than the ten-step beauty routines many influencers swear by (Molvar). While many celebs highlight a variety of toners, serums, and face masks, the key to clear skin is a simple, regular routine that consists of a cleanser, moisturizer, treatment, and sunscreen. These other products can be beneficial but are not essential and often contain active ingredients that can be minimized by the counteracting ingredients in products used simultaneously.
Different skincare products can be more effective for people with different skin types. Most people fit under the following categories: dry, normal, oily, sensitive, or combination. People with sensitive skin may experience redness, burning, itching, or dryness due to products containing fragrances or other irritating ingredients (CeraVe). Combination skin features a combination of oily regions in the T-zone (forehead, nose, and chin) but normal or dry skin in the cheeks (AAD). No matter what type of skin a person has, they should use products with gentle ingredients that have soothing and nourishing effects.
Some people are more sensitive to certain ingredients found in many products, such as fragrances. For example, I tend to react negatively to niacinamide, which typically soothes skin and minimizes redness (Healthline). This ingredient has the opposite effect on me and causes my face to be flushed and itchy. Please keep in mind that creating a skincare routine takes time and experimentation. Some products may work for me but prove less beneficial for others. I hope this routine acts as a guideline to create a routine that works for you. Expensive products are not always better, and consistent application is the key to healthy, glowing skin.
Without further ado, here is my skincare routine as a person with combination skin. I like to start my morning routine with the CeraVe Hydrating Facial Cleanser. This product gently cleanses my skin and contains hyaluronic acid, ceramides, and glycerin, which hydrate skin and reinforce the moisture barrier. A healthy skin barrier protects the skin from bacteria and other irritants, which can lead to more breakouts in people with a damaged skin barrier (Glo Skin Beauty). I highly recommend using your cleanser over a sink with a mirror so you can see your skin and make sure you cleanse your entire face. Washing your face in the shower or without a mirror can leave bacteria on the skin, leading to irritation or breakouts.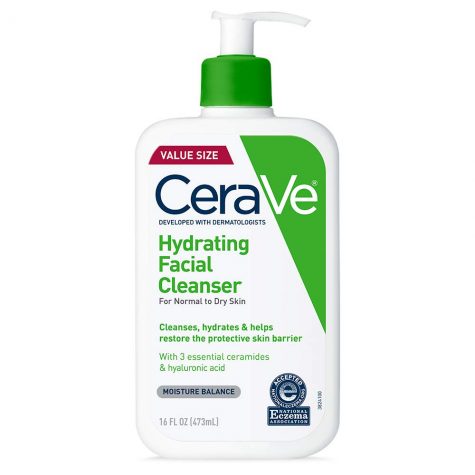 After washing my face, I let my skin air dry instead of using a towel. Towels can build up with unwanted bacteria over time and irritate the skin (L'Oréal Paris). After several minutes, I rub a thin layer of Fruit of the Earth Aloe Vera Gel on my slightly damp face. Instead of evaporating or being wiped off, the extra water is absorbed back into the skin and locked in by the gel, ensuring higher hydration levels of the skin (Insider). Aloe is an ingredient that has many anti-inflammatory properties and helps the skin to retain moisture, which can help you achieve the "glass skin" popularized in Korean skincare (PharmEasy).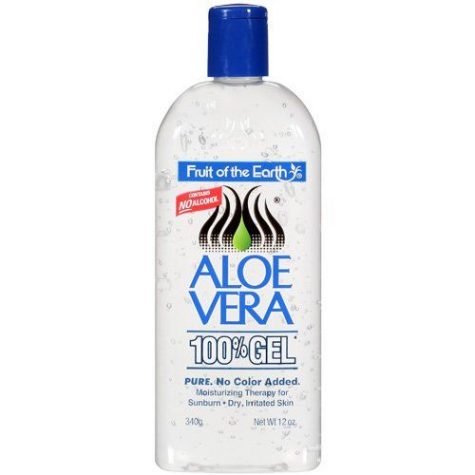 I love the CeraVe Moisturizing Cream because of the rich, nourishing qualities of the ointment. This product acts as my primary moisturizer, and I apply it after the layer of aloe dries. This heavier cream takes several minutes to dry, but it is well worth the wait because it provides hydration that lasts the entire day. Unlike other creams, this product does not feel greasy and is fast absorbing, effectively preventing dryness and itching. The moisturizer contains ingredients similar to the skin's natural composition, making them easy for the body to absorb and providing unbelievably soft skin.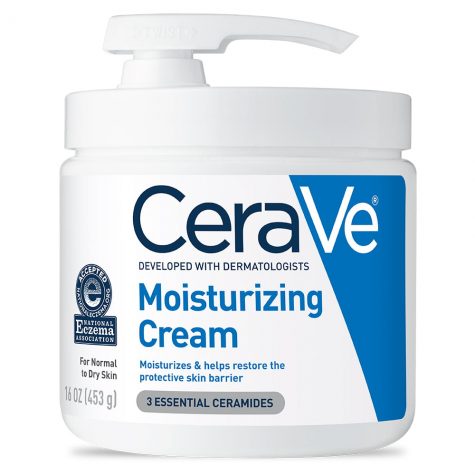 After my moisturizer is completely absorbed, I go in with the Neutrogena Spot Treatment Gel to treat any blemishes and reduce their visibility. This spot treatment is meant for active breakouts and is formulated with 10% benzoyl peroxide, a strong dose of a powerful medication that can rapidly treat acne. Unlike salicylic acid, benzoyl peroxide kills acne-causing bacteria rather than exfoliating the dead skin cells that are blocking pores (GoodRx Health). Products containing either of these ingredients can effectively treat blemishes, but I prefer this benzoyl peroxide product because the ingredient works better for my skin. However, everyone's skin is different, and some products may be more effective for you than they may be for me.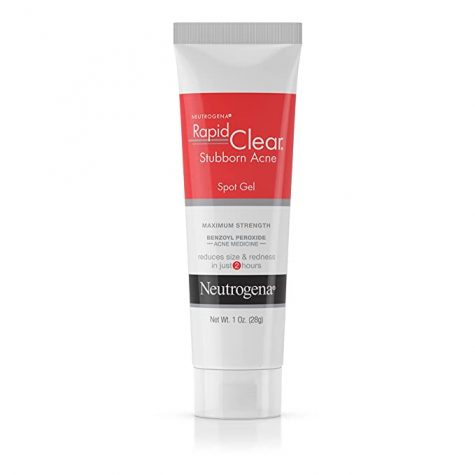 After giving my spot treatment some time to work its magic, I go in with a layer of the CeraVe Daily Moisturizing Lotion to boost my skin's hydration. This product has a lighter consistency than its cream complement, so it is absorbed faster but still provides similar benefits. I love CeraVe's products because they are non-irritating and make my skin feel amazing. I highly recommend this product because it is affordable, and one container can last several months. This product is suitable for all skin types.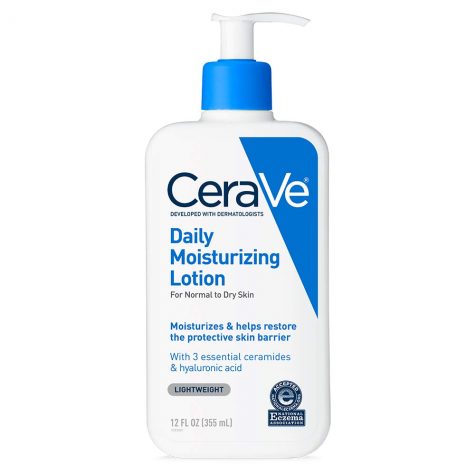 After moisturizing, applying sunscreen is critical to protect yourself from skin cancer and pigmentation that can be caused by harmful UV rays (Mayo Clinic). The Neutrogena Clear Face Sunscreen is a more affordable option with a light texture and is non-irritating. It is specifically designed for acne-prone skin, so it will not clog your pores or cause you to break out. Even during the winter, wearing sunscreen is critical because UV rays are emitted by the sun all year long, not just during the sweltering summer days. I recommend this lower SPF product for the winter specifically because you will likely be inside for most of the day, so you don't need as strong sun protection as you might require during the summer.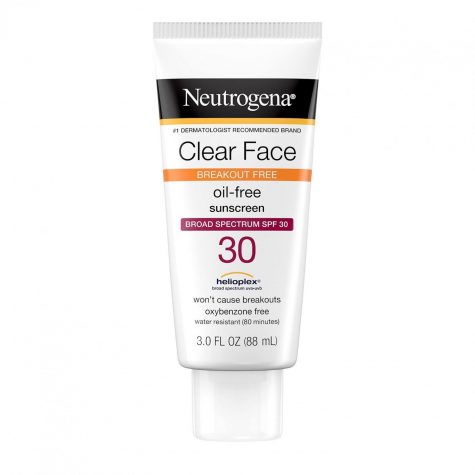 La Roche-Posay Anthelios Sunscreen is a more luxurious option that I prefer in the summertime. It provides the same protection against UV rays and helps to reduce sun damage, especially on days when I am outside for extended periods (La Roche-Posay). I do not use the Neutrogena sunscreen when using this product, as only one sunscreen is necessary for a morning routine. This sunscreen is water-resistant and provides protection for 80 minutes of swimming (Ulta).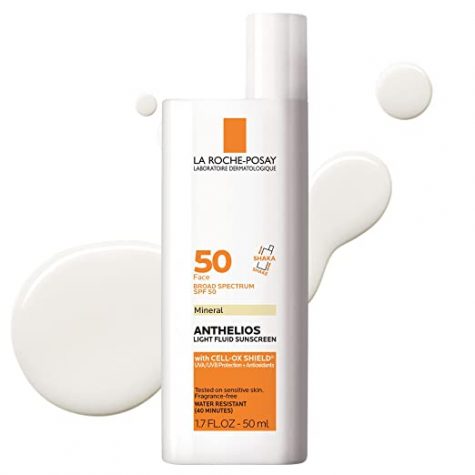 Another product I love is the CeraVe Healing Ointment. This product is formulated with cracked, chafed, and dry skin in mind but has many different purposes (CeraVe). I use this product on any dry skin at night and for my lips, as needed, as the cold winter air and wind are known to chafe sensitive areas (Abreva). The petroleum base is the key to its effectiveness, relieving dry skin and preventing further chapping (AAD). This product is also beneficial because it is non-comedogenic, so it does not block pores, and it is suitable for all skin types.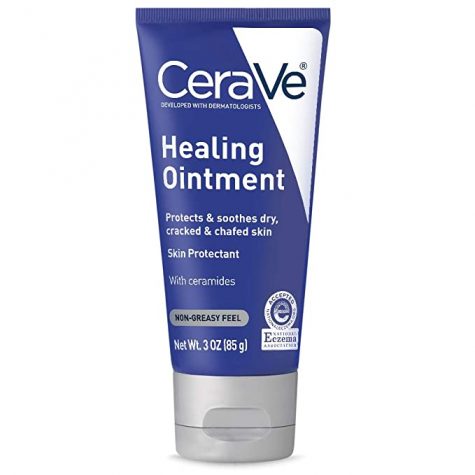 Before using the CeraVe Hydrating Facial Cleanser at night, I like to cleanse with a water-based cleanser like the Garnier Micellar Cleansing Water. This technique of cleansing with two different products is known as "double cleansing," removing any waterproof sunscreen or excess oil from the skin before going in with the main cleanser. This additional step may seem unnecessary, but it allows water-based cleansers to work better and allows other skincare products like moisturizers to be better absorbed through the moisture barrier (Health Essentials).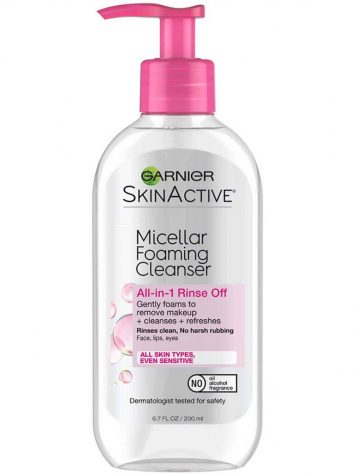 After letting my CeraVe Moisturizing Cream and Neutrogena Spot Treatment Gel absorb, I like to go in with a thin layer of the Differin 0.1% Adapalene Gel. This product used to be prescription only but is now available over the counter. It contains Adapalene, a retinoid derived from Vitamin A. This product increases cell turnover, treating acne deep beneath the skin, preventing the formation of new blemishes, and evening out skin tone (Differin). Although new users may experience side effects like increased redness and dryness when using the product for the first couple of weeks, I found that the results were worth it. Please keep in mind that Differin is not a spot treatment and should be applied to the whole face, even in areas that already appear clear. This product is meant for people struggling with frequent breakouts or acne.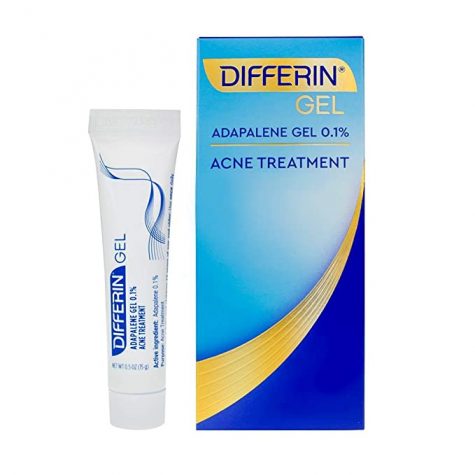 Finally, the Mario Badescu Drying Lotion is not a product I use every day, but I find that the combination of salicylic acid and sulfur is highly effective in unclogging pores (Mario Badescu). This product should be applied directly to blemishes and works to shrink surface blemishes overnight. However, salicylic acid should not be used with the Adapalene in Differin Gel because of the increased risk of irritation, so I use this product several hours before my evening skincare ritual (Mayo Clinic). This product can be applied with a cotton swab and works rapidly to unclog pores.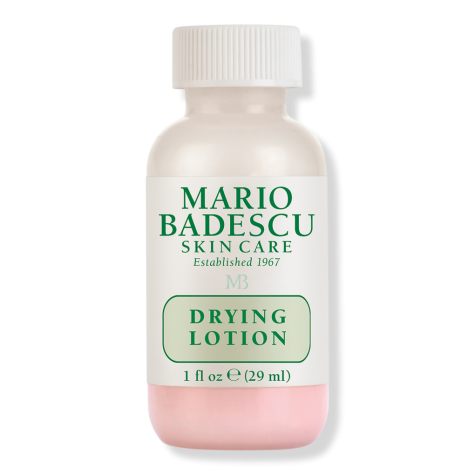 I hope you find these skincare products and tips helpful. Here are some final words of wisdom. Please let me know if any of these products work for you, or feel free to reach out with any questions.
Wear sunscreen and limit sun exposure during the day

Avoid products that contain excessive fragrance, as they can cause irritation

Use gentle cleansers and moisturizers to protect your moisture barrier

Eat a well-rounded diet that consists of fruits, vegetables, whole grains, and lean proteins

Keep stress levels low and get plenty of rest to maintain healthy skin