My High School Experience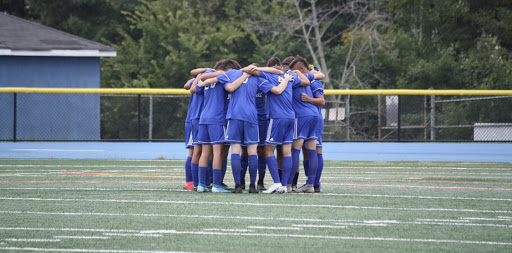 My high school experience has been anything but normal. Coming in as a freshman, I was not sure what to expect and vividly remember my first ever high school class on the first day of school: Period 1 Geometry Honors with Ms. DeLaura. Now, almost four years later, I am only a few school days away from my last ever class. To say time flies is an understatement, but the memories I have made at Caldwell and JCHS will last a lifetime.
Entering sophomore year, I was super excited to return and underestimated how fun the fall would be. From going to the Friday night football games to starting varsity soccer, this was a time period I will never forget. Unfortunately, my sophomore year was cut short due to the pandemic, and I did not see a lot of people for two and a half months. Looking back, even with the chaos of the Coronavirus, this was a very lax time period where I basically relived the same day everyday: wake up, do schoolwork, workout, ride bikes with my friends, repeat. As things became more normal over the summer, I began to see my friends more regularly in indoor settings, but the virus was very much still present going into my junior year.
As a junior, the whole school year was pretty much online, but I luckily still got to play a shortened soccer season and see my friends regularly. This year went by very fast and was filled with Zoom classes and a lot of Google Classroom assignments. It was definitely weird just waking up, rolling out of bed, and walking only a few feet to my desk chair. It felt very weird as I clicked off my last Zoom class in the middle of June with Mr. Cohen, ending my junior year without the worries of any final exams.
Going into my senior year, I was very excited that I would be going back to in person classes full time but was very upset that there was still a mask mandate. This fall was very similar to my sophomore year fall, going to watch the undefeated football team every Friday night in tribe and having a good final soccer season. The winter was also very fun watching the basketball team with my shirt off spelling out "Caldwell" and "Chiefs" in big blue letters in the tribe in the JCHS gym. As for the Spring, the lifting of the mask mandate in schools meant that everything was truly back to normal, and it was really a surreal feeling being in JCHS with normal classes and no masks. I was grateful that I was able to get a real senior year since the class of 2021 was not as lucky.
I will take the lessons that I learned from JCHS into college next year and will continue to balance academics, athletics, and social events as I did in high school. I am excited to see where I will end up but will never forget the memories I made in Caldwell and in this high school.