The Oscars are usually a time to celebrate the performances of actors and actresses around the U.S. This year, however, took a turn for the worst, as Chris Rock tried to wow the crowd with a tantalizing joke regarding Jada Pinkett Smith. After Will Smith originally laughed about the joke, one look at his wife's face quickly turned his laugh into a fit of anger. Smith got up from his seat and slapped Chris Rock across the face, demanding Chris to keep his wife's name out of his mouth. Smith's actions have caused nationwide controversy and debates. Let's take a look at both sides of this altercation:
In the Defense of Chris Rock:
Chris Rock has been making people laugh ever since he was a teenager, cracking countless jokes through his standup acts and over the years centered around numerous celebrities. As he got up on stage on March 27 as a host of the Oscars, Rock cracked a G.I. Jane joke directed towards Will Smith's wife, Jada Pinkett Smith. Rock was chosen to host the Oscars clearly to add a sense of lighthearted banter and jokes, the staple of Chris Rock's personality. Rock has starred in countless top hit comedy movies including Grown Ups, Spiral, and Good Hair, always making the audience laugh with his well-timed and witty jokes. In being chosen to host the 2022 Oscars, his expected role was no different.
Rock started the night with a few lighthearted jokes that got the audience laughing. After announcing the G.I Jane Joke towards Pinkett, the camera cuts to Will Smith laughing. This initial reaction clearly shows that Smith himself enjoyed the joke. The problem was that Pinkett, visibly shown in the background with a frown on her face, did not appreciate the humor. The fact that Smith was able to recognize this as a friendly joke shows that Jada Pinkett overreacted, and she should have been able to laugh it off as Will did. Noticing his wife was upset, Smith could not hold his ego back and had to get up on the stage, interrupt the show, and slap Chris Rock across the face. With this many viewers watching in person and on TV, there is absolutely no reason to make this sort of gesture in front of millions of people. Chris Rock and Will Smith had been friends with one another before this incident, and this is no way to handle a situation like this. If it bothered Rock and Jada so much, they should have talked to him after the show, not make an egotistical and disrespectful slap on Rock, who was really just doing what he was paid to do.
In the Defense of Will Smith:
Will Smith and Jada Pinkett Smith have been enduring a wave of attention from the media centering around the cheating scandal. This wave did not crash with just the scandal, on March 27, 2022 Will and Jada attended the Oscars planning to have a successful and calm night. Jada was disturbed when Chris Rock had used her alopecia to crack a laugh out of the audience. The joke was, "Jada, I love ya. G.I. Jane 2, can't wait to see it," Rock said, suggesting that Jada had looked like Demi Moore in the 1997 film. Jada revealed in 2018 that she suffered from alopecia, an autoimmune disease that causes hair loss. Willow Smith, her daughter, shaved her head last summer to stand with Jada and her disease. Will Smith has been with Jada all throughout her struggles in fighting against this disease and he did not appreciate using her illness for a cheap joke.
Will wanted to defend his wife because she has been trying to gain confidence without her hair. Will Smith has every right to defend his wife since this was not the first time she was used as commentary by Chris Rock. Back in 2016, during Chris Rock's opening Academy Awards monologue, Chris Rock made fun of Jada for not attending the Oscar saying, "Jada boycotting the Oscars is like me boycotting Rihanna's panties. I wasn't invited," Rock said. Jada has been dragged by Chris Rock publicly more than once and I think that this was the final straw for Will Smith. Jada is very insecure about her hair and her disease and there was no need for the joke to be made. To be fair, Chris Rock is a famous comedian and making jokes is how he makes a living but, to use someone's disease as a punch line is not right.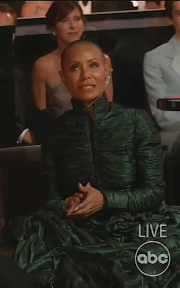 This event has been one of the most trending debates on social media since the night of the Oscars. People have even taken it to the point of using it as a marketing tactic at businesses all over the country. Even big corporations, like Starbucks, have made tip jars where the customer can put money in the jar whose side they are on. Just like these people tipping in the jars it is not clear who is morally right and no one can say for certain. This event will never be able to be agreed on by the general public and is a source of debating based solely off of an opinion.