Challenges and Trends for Prom Dresses 2022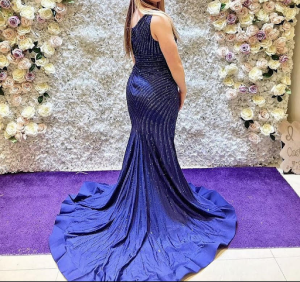 This year seniors and juniors have already started to buy their prom dresses for this year's prom! It was announced that juniors and seniors will be able to attend the prom. There is a private Instagram account open for people to post their prom dresses, for those attending. This leads into the first challenge that girls have faced with prom dress shopping; ensuring that you are the only person with that specific prom dress. The Instagram account is a perfect solution to avoid this issue. A lot of people have been excited to go out and shop for their prom dresses. 
But what's popular this year? The most popular trend has been the mermaid style dresses. 
This photo above is an example of a mermaid style dress. A mermaid style dress is usually fitted until the middle of your thigh, and then the dress flares out. The 2 most popular colors that have been seen this year are hot pink and emerald green. Of course, many people still have not gotten their dress, but so far these are the most popular factors going on with the dresses. 
In addition to mermaid style dresses and colors, long trains and backless dresses have been another common trend. 
In the picture to the left, we can see that long train that pools around the wearer. This definitely gives the dress elegance. But a challenge with the long trains is doing things like dancing or even walking. A long train can make these things difficult. However, there are ways that the trains can be controlled such as creating a bustle in the back, getting it hemmed, or making the train detachable. 
 The picture to the right is an example of a backless dress. This has also been seen often this year so far. All of these styles and trends are definitely gorgeous and are shaping a lot of the prom dresses for the rest of the year. 
On the other hand, a challenge people have been facing this year is where to buy their prom dress. Most of the popular prom dress locations are 45 minutes to 1 hour away. There are also so many prom dresses online, but the difficulty in buying a dress online is that you cannot try it on or sometimes you cannot return them. Christine Infatolino said, "I got my prom dress at Gattinolis, and it was about 45 minutes away. I did not come home with my dress because it needed alterations." Alterations are very important because when spending over $100 on a dress, it needs to fit perfectly.