TRADITION! That's the word I would use to concisely summarize "Fiddler on the Roof." Even so, there is much more to this complex classic than meets the mind's eye.
It is set in 1905 in Anatevka, Russia. A time period characterized by the constant fear of Tzar Nicholas II and Jews struggling to assimilate to new emerging cultures. A time period where sometimes tradition was the only thing Jewish people had to cling to, as everything else was being stripped from them.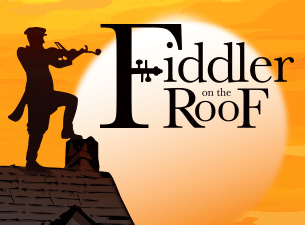 "Fiddler on the Roof" tells the classic story of Tevye, the poor dairyman, his wife Golde, and his five daughters: Tzeitel, the oldest, Hodel, Chava, Shprintze, and Bielke, the youngest. In a time period where arranged marriages were standard and the only way a poor girl could hope to have a good life, Tevye struggles to deviate from tradition and let his three eldest daughters marry for love and happiness, instead of, comfort and security. In this musical dazzled with humor and song favorites such as "Tradition," "If I Were a Rich Man," "To Life," and "Do You Love Me?" this show is sure to attract audiences of all ages.
I decided to sit down with sophomore Zoe VanderGast, who plays Golde, to get a better idea of what JCHS' interpretation of "Fiddler on the Roof" is all about.
I first asked Zoe to tell me about her character. "She's very strong-willed and stubborn," Zoe laughed. "She's very strict and sarcastic… but you can tell [everything she does] is out of love… Golde really wants a good life for her daughters." Zoe explained to me how Golde grew up struggling in a poor family and doesn't want that for her daughters. She is less concerned with their happiness in marriage and more concerned with their security and that there will always be food on the table for them. "She's a softie on the inside, which you do get to see by the end of the show," Zoe mused.
Then, I asked Zoe about her favorite line as Golde. She told me that this line occurs as Golde is trying to get her oldest daughter, Tzeitel, set up with Lazar Wolf, who is considerably older than Tzeitel but is wealthy and can give her a secure life. Golde yells at Tevye to go speak with Lazar about this possible marriage, and says, "Tevye, don't be an ox. A man sends an important message, the least you can do is talk to him." Zoe thinks this line is funny because "in many other aspects [Golde] is strict on following the rules… but when it comes to respecting the "father" or "man of the house" she literally just yells at her husband 'don't be an ox!"… most women wouldn't have spoken to their husbands that way in this time period and in this setting… and that's something I really admire about her."
Lastly, I asked Zoe to tell me why people should come see Fiddler on the Roof. "We have such an overwhelmingly talented cast," Zoe said without hesitation. "On top of that, we have a fantastic director and choreographer. Mr. Paradis brings a new energy to Fiddler. Some people might think it's [just] a classic… but it's not because Mr. Paradis is bringing technological aspects to the set, new perspective to costumes, and light to all of these amazing components in the show… Overall, I think the show is going to be fantastic."
You can see "Fiddler on the Roof" in the JCHS auditorium on March 15, 16, and 17 at 7:30 p.m. and March 18 at 2:00 p.m.