King Charles's Coronation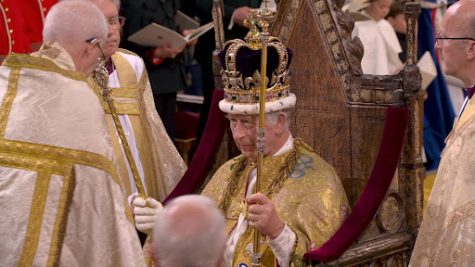 On May 6, 2023, millions of people in the UK and beyond celebrated the coronation of King Charles III. The ceremony took place at Westminster Abbey, where the king became the 40th reigning monarch to be crowned there since 1066. King Charles's wife, Queen Camilla, was crowned alongside him.
The coronation started with a procession from Buckingham Palace to Westminster Abbey. Nearly 4,000 invited guests were in stands outside Buckingham Palace, along with thousands of people in viewing areas along the route from Buckingham Palace to Westminster Abbey. At Westminster Abbey, there were more than 2,200 people from 203 countries. There are five key stages of a coronation: the recognition, the coronation oath, the anointing, the investiture, the crowning, and the homage. During the recognition, King Charles was presented to the people of England. King Charles then signed the coronation oath, pledging to serve the people and rule according to the law.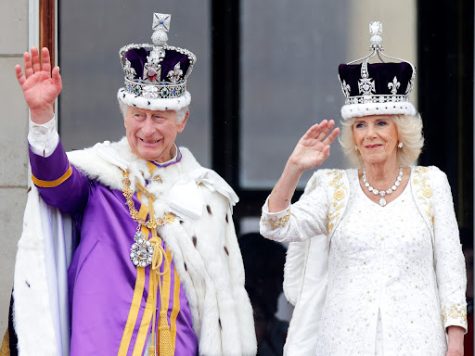 After that, King Charles was anointed with holy oil by the Archbishop of Canterbury. King Charles then put on the ceremonial clothing, which consists of a full-length coat made of gold silk cloth. Coronation regalia was also presented to King Charles, which includes St. Edward's Crown, the Imperial State Crown, the Sovereign's Sceptre with Cross and the Sovereign's Orb. Then the moment everyone was waiting for came: King Charles was crowned. During the crowning, the Archbishop of Canterbury slowly placed the more than 400-year-old St. Edward's crown on King Charles's head. This is the centerpiece of the Crown Jewels, and this will be the only time the king will ever wear this crown. The king then moved from the coronation chair up to the throne for the final part of the ceremony, known as the homage. This is when the people attending the coronation swear their allegiance to the king. Camilla was then crowned in a shorter and simpler ceremony. 
After the service, members of the royal family traveled back to Buckingham Palace in a procession. Since it has become a tradition since the coronation of Edward VII in 1902 to greet the crowds from the Buckingham Palace balcony, King Charles and Queen Camilla greeted the crowds from the front and back balconies of Buckingham Palace once they arrived.
Celebrations of the coronation included street parties, parades, special commemorative church services, and a concert at Windsor Castle. However, there were also some protests that took place as a result of the coronation. Some government and indigenous groups protested the existence of the monarchy and other grievances.
Although King Charles became king by law directly after the death of his mother, Queen Elizabeth II, the coronation represents King Charles's official commitment to being king. The coronation highlights how the British monarch continues to have a role in Europe today.