Earthquake in Turkey and Syria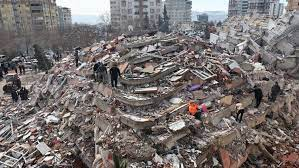 On February 6, 2023, disaster struck Turkey and Syria. A 7.8 earthquake spread tragedy and fear across the world. This was a shock for all of the citizens, and there is unfortunately a death count of about 40,000 between both countries. According to the NY Times article by Sergey Ponomarev, rescuers are still pulling survivors out of rubble. Millions of children are in need of shelter and medical care. There are tents present across land, but it is difficult as the country is filled with destroyed buildings and distressed citizens. 
As for the United Nations, "the global body announced the launch of a $397 million humanitarian appeal for Syria covering a period of three months" (Ponomarev). It is important for countries around the world to come together in support of those in need. This is no light weight disaster, and it's going to take a long time to recover and grieve the lives lost. Therefore, "the organization has also released $50 million from its emergency funds for earthquake relief" (Ponomarev). 
Although JCHS is a small school, it is important for the student body to be mindful and knowledgeable of this issue. Students can help by donating to organizations or even just spreading awareness. The thousands of lives lost not only impact Turkey and Syria, but the entire world as the UN brings countries together in times of tragedy. The recovery is far from over, but strength will be gained through support around the world.