A Look Into This Year's AP Artists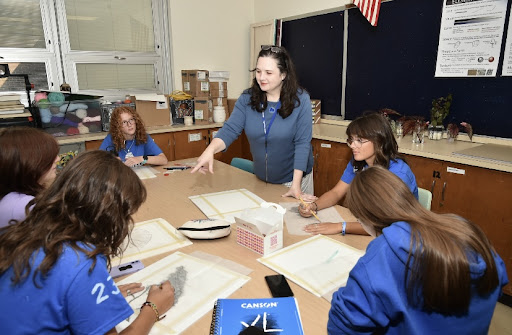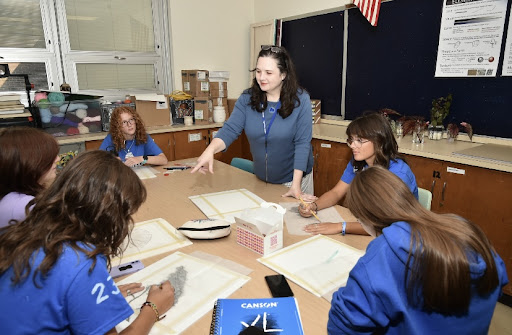 The AP Studio Art class has been available to the school's top and most committed artists for the past 5 years. This year the class is larger than ever and houses much creativity and talent. The course has been taught by the incredibly talented Mrs. Petruzello for several years. While the curriculum for the class has changed, her commitment to her students has remained as true as ever. The course can only be taken by seniors who have exhibited talent for the arts and taken multiple art classes in previous years. 
In past years the AP Art Course was centered around a specific theme where students would pick a topic that interested them and then follow it through a series of pieces that dealt strictly with their concentration. For instance, students might choose "reflections of themselves" as their concentration and just draw their reflection in various objects. These concentrations left little room for growth, experimentation, or change, which can often put students in a box. The new curriculum focuses on students creating a sustained investigation where they can flow through their ideas, grow, and change them as they see fit. The AP Classroom describes a sustained investigation as " a body of related works that demonstrate an inquiry-based sustained investigation of materials, processes, and ideas through practice, experimentation, and revision." This means that students will come up with an inquiry statement or question that they will demonstrate through their works using whatever images, processes, or materials they see fit. The investigation, compared to the concentration, allows students to explore their ideas more freely rather than restricting them to one topic.
This year there are nine very skilled and creative seniors taking the course: Charley Albert, Christina Brown, Marisa Brown, Christina Cerreto, Joe Conforti, Gia DeRiggi, Ceci Lomauro, Hannah Morgan, and Angie Ruiz, and each has their own unique investigation. Charley's investigation is about academic pressure and what it looks like in students' lives. Christina B. is using depictions of traditional Italian food to represent childhood traditions and visits to her grandparent's house. Marisa is investigating how self-portraits of hands can portray a person, their beliefs, and their interests without seeing the person. Christina C. is seeking to capture the fear of change and growing up. Joe is attempting to recreate the magic of childhood through a study of traditional storybook illustration styles. Gia's investigation revolves around figure and portrait drawings using strictly black and white. Ceci's pieces will focus on why reflections of ourselves take such a hold on us. Hannah is exploring her family memories during her childhood. And Angie's pieces will look into different interpretations of death through a focus on skeletons.
Each of the nine students will follow their investigations through a series of 15 pieces but what makes these investigations unique is that as they progress, they are allowed to take their investigation in whatever direction they want, focusing on different aspects of their topics. As it is only a quarter through the year, each student has completed only 1-2 pieces so far but is working hard to complete all 15. The deadline for the AP Portfolio is May 5th, and their work will be showcased in the school's annual art fair at the end of the year, so be sure to come and support them and the other talented student artists in the school!