A Prolific End: A Reflection of a Perfect Season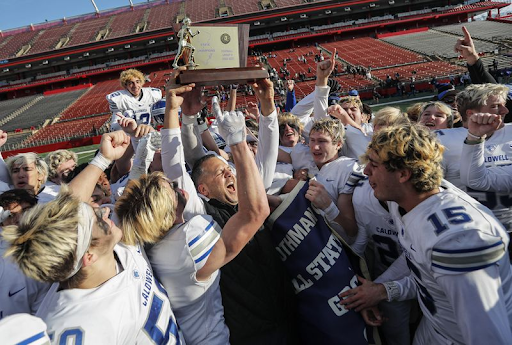 On Sunday, December 4th, 2022, the Caldwell Chiefs football team capped off a historic season with a grueling, hard-fought 18-14 win against Rumson-Fair Haven, winning the first-ever statewide Group Two championship. They reached the ultimate summit, checked the last box off the list, and extended their winning streak to 28 wins in a row. (1st in New Jersey, 10th longest in the country). The Chiefs could not have gone out in a better fashion: now regarded as one of the best Caldwell football teams of all time, the boys in white ground out a phenomenal team win against a tough Rumson team. The 50,000-seat SHI Stadium, home to New Jersey's beloved Rutgers University Scarlet Knights football team, held its breath as the Chiefs faced a fourth down stop on their own ten-yard line. The defense gave it their all and forced an incomplete pass, sealing the deal for Caldwell.
Junior running back Joey Marinello then ran for a first down to win the game and run out the clock. Marinello, who has been a force on both offense and defense the whole year, gave nothing but compliments to his team and their dedication to winning games in his interview. "Teams will fight with us for the first half, but we come out swinging in the second half, and that's what we did today" (Sideline Chatter). Marinello had 97 yards running on offense and garnered eight tackles on the defensive side. Senior outside linebacker Ryan Lawrence led the team in tackles with nine. Senior safety Harry Boland found himself with eight tackles, and junior linebacker Julian Casale amassed seven, with six being solo tackles. 
Caldwell had their work cut out for them, though. After being down 7-6 going into the half, a fake field goal was thrown by junior Louie Anemone and caught by sophomore Michael Mignone giving the Chiefs a much-needed 12-7 lead. Anemone was not surprised by the play call, though, in an interview saying, "We've run it in practice a number of times… I saw Mike Mignone pop open, I threw it, and he made a tremendous play on the ball. We just have so many guys who can come up with a big play, and I'm glad that I could be part of that one to help give us a lift" (Sideline Chatter). While the catch has caused some controversy online, the call at the end of the day stood, and the better team came out on top. After the catch was made, the Chiefs wreaked havoc defensively, getting another stop. On the offensive side of the ball, senior Harry Boland ran in a nineteen-yard touchdown to extend Caldwell's lead to 18-7. 
To say emotions were high is an understatement, as the seniors were playing their final game that Sunday. And when the final whistle blew, the players and coaches embraced on the field. A swarm of reporters and photographers from multiple media publications met the players after the game. On the Rutgers logo was a sea of blonde hair and white jerseys. Players were memorialized in photos they could show to their grandkids, hugging their brothers with pure emotion on their faces. Once the celebration was finished on the field, players ran into the stands to celebrate the win with family and friends, signing posters and memorabilia for young fans. Only then did a collective sigh of relief come over the Chiefs upon finishing a five-month grind to glory.
The immense support from Caldwell's fans also helped propel the team to victory. Caldwell's fanbase had the largest showing of any group that played at SHI Stadium. Head coach Todd Romano put it perfectly: "This *points to the crowd* is what it means to the community. The town's a ghost town right now. They love their Chiefs, they love their football, and we love them" (Jersey Sports Zone). It was a day worthy of any football movie and one that will be remembered by every person wearing Caldwell colors for years to come.