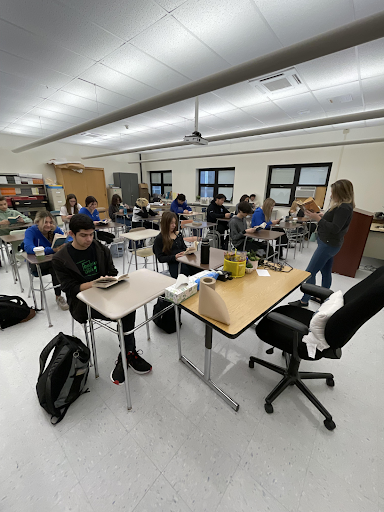 Transitioning to the high school is normally for incoming freshmen students, but this year it is also the experience of Ms. Dana Spina, who formally taught at the middle school for sixteen years. As many students know and remember, the transition from three years of middle school into high school can be difficult. Luckily, this year incoming freshmen were able to do so alongside their former teacher.
This year, Ms. Spina is teaching English 11 and English 12. When asked about the curriculum, she explained, "It's been a while since I taught Shakespeare, but I enjoy it. It was also nice to get to know my senior students better through their personal college essays, which was important at the beginning of a new school year." Both juniors and seniors face crucial and important school years, so having a good and supportive English teacher will help ease the stress.
However, there is also a big difference between high schoolers and sixth graders. "The types of conversations with students are very different now. In middle school, I had to help students with lockers, switching classes, etc. Whereas now, I'm responsible for preparing my students for college and real world skills. In both GCMS and JCHS, I had to guide students through new life phases."
Although the transition can be stressful, Ms. Spina seems to be fitting in well at JCHS. She explained, "Both middle school and high school have pros and cons, but I got my college degree to become a high school teacher, so I prefer to teach here." When Ms. Spina made the transfer, not only was she leaving sixteen years with the same grade, but also her colleagues. "The sixth grade team is definitely what I miss most," she stated, "But I do love the teachers here. Mrs. Callaghan has been a great mentor for me and I appreciate everybody a lot." JCHS is lucky to have someone as compassionate and dedicated as Ms. Spina, and thankfully her transition was smooth and successful.