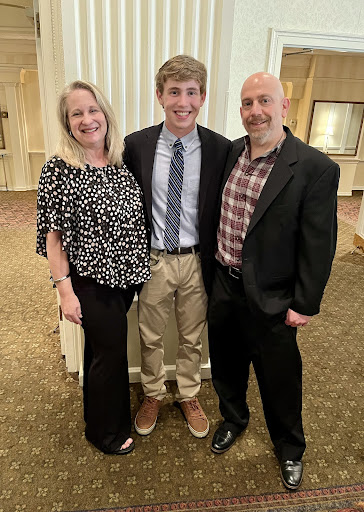 CALDWELL- I always ask myself the question if my freshman year self and my current self would get along. While I think that the two would be able to hold a strong conversation, I doubt their lifestyles and worldviews would coincide in the slightest. Three and a half years ago, I was a different person. While I can't pinpoint the exact reason for such a stark change in my characteristics, I believe it centers around insecurities. Walking into school during my freshman year, I was always afraid that I would be judged or made fun of for the way I dressed, what I said, or what I believed in. The negative thoughts that these fears brought me went hand in hand with the fact that as I was getting my feet wet in high school, I kept quiet, stuck with the crowd, and didn't put myself out there.
On top of not exploring many extracurricular activities outside of sports, my grades were not up to par. I was always a superb student in sixth and seventh grade, but my bad academic habits in eighth grade seemed to trickle into the first few months of my high school career. I wasn't doing much outside the classroom, and inside of it, I wasn't succeeding when the end of the first marking period came. Deep down, I knew something about my life needed to change, but I just needed an awakening.
That fall, my family and I had no plans over the annual Teachers' Convention break, so we decided to visit my mom's alma mater, The Catholic University of America. To this day I still don't know why my mom decided to bring me on a college tour during my freshman year, but for whatever reason the visit opened my eyes. Seeing the campus, the beautiful facilities, and sensing the overall good vibes of college life gave me the one and only reason I needed to begin working hard in the classroom: I wanted to have options when it came time to choose where I started my adult life.
Seeing what success in the classroom would bring me come graduation was a huge eye opener for my academic progress. As the fall grew into winter, my grades also grew from mostly Bs and a few Cs to almost all As. I had nailed down good study habits and a great work ethic, but I still needed the social confidence to truly begin making the most of my high school experience. Come January of my freshman year, I had started making more friends and emerging out of my shell. Yet, I could not have foreseen the impact that one project during the cold New Jersey winter would have on the next three years, and quite frankly the rest of my life.
The freshmen debates are an annual, multi-week project for the entire grade that puts two groups of three against each other to discuss a current or historic political issue. The assignment lit a spark within me, and for the two weeks we had to complete the project, I spent all the time I had researching potential arguments and rehearsing my opening lines. Come debate day, the butterflies were flying wild in my stomach, but I didn't shy away from the bright lights of the JCHS auditorium. To this day, I still remember my opening statement, rebuttals, and poking a hole in my friend's argument that locked up the win for my group, and consequently my confidence for the rest of high school. I poured my heart and soul into my debate, and to see all of my hard work come into fruition in the form of public speaking showed me just what I was capable of when I put my mind to something.

Going forward, I took the "I can accomplish anything" mindset and ran with it. I finished out my freshman year with some of my highest grades ever and played baseball with some of my best friends on our school's freshman team, creating memories that I still hold to this day. While many will remember the class of 2022's sophomore year as the start of the COVID-19 pandemic, I moreso remember it for the start of something great in my own regard. I had never really explored clubs during my freshman year, so I put more effort into finding some that I would enjoy early into my sophomore year. On top of being a member of the Notre Dame Church Youth Group outside of school, I joined Model UN, began writing for The Caldron at the suggestion of my English teacher Mr. Phelan, and got my first job at our town's Jersey Mike's. COVID-19 put all of these activities to a halt, but the abundance of time at home the pandemic created allowed me to analyze how I was living my life, and decide on changes that I wanted to make once the guidelines loosened.
During quarantine, I looked at myself in the mirror every day and asked my reflection if I was the person I wanted to be. This exercise seems silly, but it made me hold myself accountable to the decisions I made about my lifestyle, and forced me to set goals in order to become the person I wanted to be. I began to focus more on self improvement instead of "pleasing the crowd" because of this exercise, and it paid dividends. Though my junior year was almost all online, I thrust myself into leadership roles that I would have never thought were possible for myself two years prior, such as becoming a captain of the cross country team, a member of the National Honor Society, a sports editor for The Caldron, the Notre Dame Youth Group President, a peer leader, and a Boys State Senator. Additionally, I credit my mirror exercises for helping me find some of my best friends and strengthening the bond between my existing friends and I. Because I now knew the exact person I wanted to be, I could tell which of my friends believed in me and wanted to see me succeed, and which were simply fairweather friends or those using me for a personal gain of their own.
With all of the confidence in the world, great people around me, and finally knowing who I am and who I want to become, I was able to have my best summer yet, and I made it my mission to carry the momentum into my senior year. While I have not yet graduated at the time of writing, I can say that the memories I made both inside and outside of school since September will stay with me for a very long time.
If I were to list off every memorable moment from the past nine months, this piece would be even longer than it already is, and it probably wouldn't be published due to some non-school appropriate activities. But the moral of my story, at least I believe, is still clearly present without a blueprint of my senior year. In my eyes, a successful person, at any point in life, constantly goes outside of their comfort zone, looks to make each day memorable, and has a clear idea of the person they want to see themselves become. Three and a half years ago, I was 0/3 on grasping those ideas. I wasn't happy with my life and the person I was. Once I got some motivation and a reason to try, I saw my life, and my entire perception of the world around me, improve drastically. I look back on my time at JCHS fondly. The fact that I am sad to leave Caldwell proves that I enjoyed my time here, and the people that I spent it with. But when I look back, I also see the great things I am capable of. Thanks to the experiences and my journey over the past four years, I have been shaped into a mold that I am comfortable, confident, and happy to be in, which is the goal of high school. Or at least it should be.
This article is dedicated to all who have helped me overcome challenges and become the person I am today: My entire family, Amy Vercelli, Matthew Paris, Patrick Phelan, Matthew Pecora, Kristen Mautone, Kate Howe, Jeffrey Edwards, Jim Curran, Gina Strumolo, Claire Kiernan, Denise Pecora, Ryan Boggio, Susan Callaghan, and many more great individuals.