Mask(less)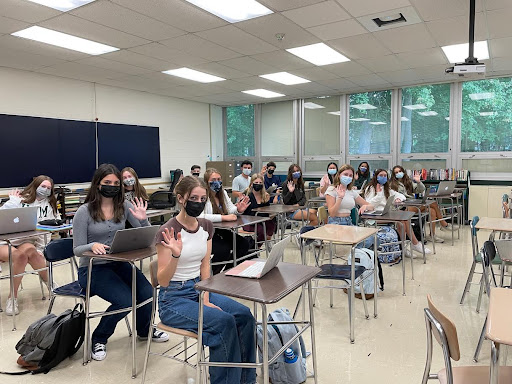 Masks – A thing of the past. At James Caldwell High School the mask mandate has been lifted. Students and teachers have rejoiced with the news and the feeling of normalcy around the high school. New Jersey lifted the mask mandate for high school students on March 7, 2022. This milestone has been long awaited since March of 2020 when the first quarantine began from COVID-19. Students and teachers have rejoiced now being able to "be free" from masks. Although the response has been extremely positive, the lack of masks means that the close contact guidelines have been amplified. When a student tests positive with COVID-19, anyone who sits in a class within 6 feet must quarantine with exemptions for vaccinated students.
Masks at James Caldwell High School have been required since March of 2020. Speaking with some of the students of James Caldwell High school has brought to light students' enthusiastic attitude towards the lifting of the mandate. When speaking with James Rizzo he stated, "It is a necessary return to how things are supposed to be. Masks have been a road block, but now it is as if the potholes are being filled and everything is coming together just in time for the closing of my senior year."
It's not only has James who expressed these positive feelings. They have been broadcasted all over the high school. Mrs. Callaghan also spoke out about this, "Having the mask as the option has facilitated learning and communication because students can hear what their classmates are saying and read their visual cues [facial expressions]." Seeing these positive responses and the lifting of the mask mandate turned out to be exactly what James Caldwell High School needed.
Over the course of the last two weeks students have reported that the option of going without a mask has improved the students' positivity and academic performance. Jude Bazerman, a senior, has a greater motivation in waking up for school in the morning knowing that he gets to see his peers' faces.
Although, there has been an extreme overload of positivity towards this topic has not only received positive feedback. Students at James Caldwell have decided to leave their masks on. While speaking with a student who wished to remain anonymous, they stated, "Masks protect us from what we do not know. Ever since the mandate has been lifted, sickness has been breaking out and the students and teachers at James Caldwell High School are in danger." While health authorities don't necessarily corroborate this statement, it is true that many people are still worried about their safety. To conclude, the mask mandate has been long awaited but still people are being cautious of the possibility of worsening circumstances.