A Trip to Boston with the JCHS Music Department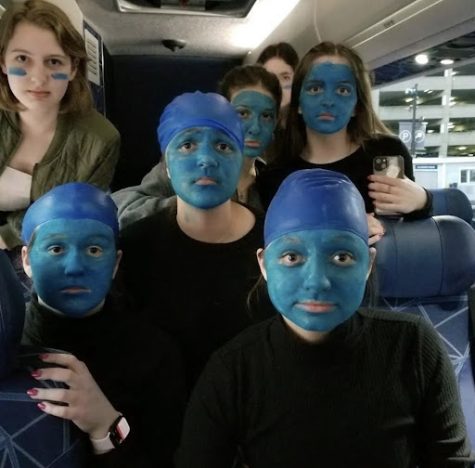 In the last few days of March, several students in the JCHS band, chorus, and orchestra went on tour to Boston where they saw the Blue Man Group, went on a dinner cruise, performed, and more!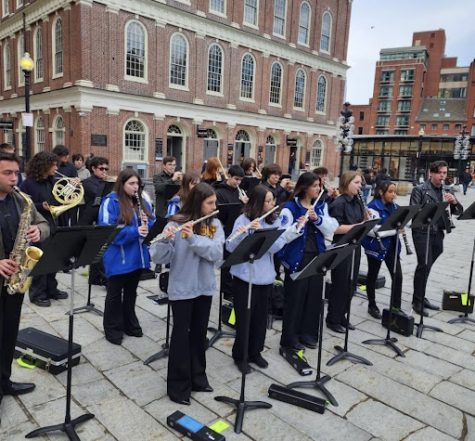 Thursday
Early Thursday morning, the students going on the trip met up in the CPA lobby before school even started. Students helped load instruments, equipment and suitcases under the busses, and set off towards Boston at around 7:30 AM. After a five hour trip, we made it to the Prudential Center in Boston where we were able to get lunch. My friends and I went to Anna's Taqueria for  burritos. We then met up in front of the California Pizza Kitchen at around 2:00 and after group pictures, we went on a trolley. Next, we went to a restaurant called Maggiano's Little Italy. We had Italian food and had a great time. Next we went to see the Blue Man Group where a few students dressed up as the Blue Men. The Blue Men did a ton of crazy things like make music with tubes, play drums while splattering paint, and throwing marshmallows across the hall into each other's mouths. The JCHS orchestra teacher, Mr. Cerniak, was selected to take part in one of the activities where he was strung up on a rope upside down, covered in paint, and flung against a wall. This resulted in a silhouette painting of Mr. Cerniak. After the excitement of the day, we were all exhausted, and finally settled into our hotel rooms at the Embassy Suites around 10:30 PM.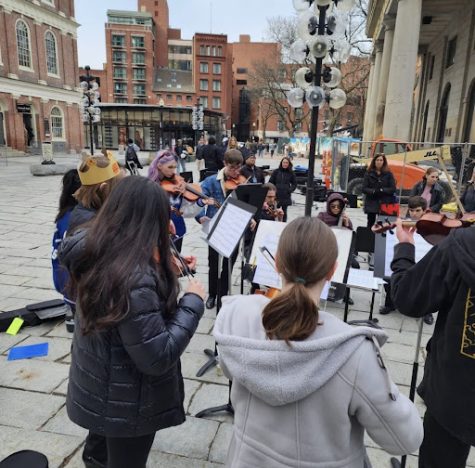 Friday
After breakfast at the hotel and some downtime, the JCHS chorus had an hour-long clinic with Regan Paras who is a professor at Berklee College. Next, the band had an hour-long clinic with Dominick Ferrara who is also a professor at Berklee. After the band, it was the orchestra's turn to have their clinic that was also with Dominick Ferrara. At 12:00, everyone went down to Newberry Street where we were allowed to go on their own and explore the markets and stores. We then met back up and set up for a band performance in front of Faneuil Hall. After the band performed, it was the orchestra's turn to perform. People came by and listened and were able to enjoy the music. Afterwards, everyone got back into the buses and went to the famous Fenway Park. Fenway Park is home of the Boston Red Sox, and everyone went on a tour of the stadium. We were able to go to the reporters' studios and to the top of the green monster. After Fenway, we went to the docks and boarded a massive cruise ship. As we boarded, we saw a buffet set up with a DJ and a dance floor. The ship took off and the music started and students from JCHS and another school who we shared the ship with began to dance and even competed in a limbo competition. After a few hours, the ship returned to dock, and we boarded back onto the buses and went to our hotel.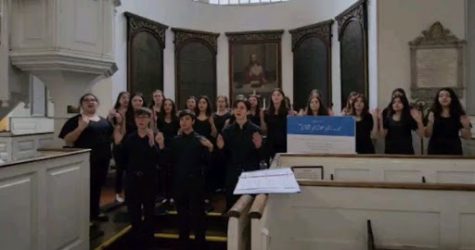 Saturday
After waking up and cleaning up, we had breakfast and went to the Old North Church where the chorus performed their pieces. Then, we were allowed to explore the historic church and learned more about the Revolutionary War and Paul Revere's legacy. Next, we went back to Newberry Street and Faneuil Hall and were allowed to get food and go shopping. Eventually, it was time to go home, and we were all sad to leave. We went back to the buses and started our journey home. After five long hours, we made it back to James Caldwell High School, and helped put away the music equipment and went home. I had a wonderful time and from what I've heard, everyone else did too.