Cross Country Season in Review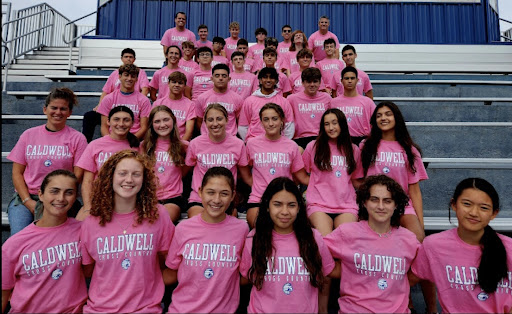 This fall, I was fortunate enough to have the opportunity to run and witness Caldwell's great cross country season. This year was John Timan's third season as head coach of the team, and Lisa DeLaura's second season as assistant coach. Mr. Timan is a physical education teacher as well as the Caldwell Lacrosse Head Coach, while Mrs. DeLaura used to run track at Vanderbilt University.
Boys Team
The boy's team this year was led by senior captain, Brendan Healey. In the regular season, they finished with a record of 5-4, including key wins over Verona, Columbia, and Millburn. This was the team's first year in the SEC (Super Essex Conference) American Division after being promoted from the Liberty Division last year for going 10-0. Caldwell finished 4th overall in the division before finishing 6th in the SEC American Championship Meet. Throughout the regular season, the boys and girls varsity teams would have 12 guys running per race, but by the time the championship and postseason came around, the team was only allowed 7 runners. This year it was senior Brendan Healey, juniors Jack Goldbach, Matthew Soder, sophomore Benjamin Lattimer, and freshmen Jackson Provan, Cameron Galbierczyk, and Michael Finguerra. The season came to an end in the North 2, Group 2 Championship where the team finished in 7th out of 15. After the season, Benjamin was awarded 1st team all SEC and Jack was awarded 2nd team all SEC.
Girls Team
This year the girls team was led by senior captain, Hannah Morgan. She helped lead the team to a regular season record of 8-1. Some of these impressive wins were over the likes of Newark Academy, Columbia, and Mount Saint Dominic. The varsity team was comprised of seniors Hannah Morgan, Julia Canonaco, junior Grace Krisinski, sophomores Kaitlyn Cabalu, Megan Pac, Isabella Parathath, and freshman Emily Glennon. They finished 2nd in the SEC American Division regular season and 5th overall in the SEC American Championship Meet. In the North 2 Group 2 race, they finished in 5th place advancing further than the boys team to the Group 2 Championship. This was their second straight year making it to this very challenging race. After the season, Hannah was awarded 1st team all SEC while Julia received 2nd team all SEC American Division.
Runner's Remarks
On advice to future runners, four year varsity runner Ansh Razdan stated, "The more effort you put in, the more you will get out."
Senior varsity runner Julia Canonaco stated that running in the Group 2 championship, "was thrilling. We were told to have fun since we knew it was the last race of the year. The best thing was that we all came across the finish line at the same time."
The hardest part of the season was "doing the workouts in the grass because it was always so thick and tall that it often bothered people. With invitational races on some Saturdays, it also got difficult at some points running six days in a row without a break."
Four year runner Gavin Akersten said the most important thing to keep in mind while racing is "The faster the run, the faster you're done."