Coach Profile: Rachel Kelly, Volleyball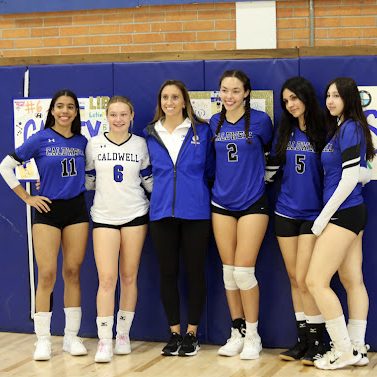 In addition to being a Phys Ed teacher at James Caldwell High School, Mrs. Kelly is also the Varsity volleyball coach. Although Coach Kelly's main sport growing up was Basketball, she fell in love with coaching. She says "The thrill of a volleyball game is an incredible feeling filled with so much adrenaline." Volleyball is a fast paced sport. In NJ high school volleyball the winner of a game will win the best of 3 sets, each played to 25 points or win by 2.
The high school volleyball season runs from August to November. During the season, Coach Kelly remarked that Volleyball takes most of her thoughts and energy. During her lunch she usually spends time watching film and making practice plans. Practices for volleyball are long, typically 3 hours a day and can sometimes be even longer. She also adds "I'm thankful to my husband for taking great care of my three kids during the season!"
On game days, Coach Kelly prepares by meeting with athletes to discuss the game plan and watching film. She always talks to assistant coach, Coach T, about the game plan during the day. Although volleyball season is very busy, it's worthwhile when the team celebrates great wins. When asked about her favorite memory of the season, Coach Kelly cited a win over Newark Tech. The team was able to carry momentum from that game to win the next three games in a row. Coach Kelly explains that "Volleyball creates cohesion so effortlessly. In order to be successful, players need to trust and build a rapport with their teammates."
It's clear that Coach Kelly has a passion for volleyball, her favorite phys ed unit to teach is volleyball! She encourages girls interested in the sport to try out for the team. She explains that the Caldwell program emphasizes being a team unit. Unlike other sports, the varsity and JV levels practice together. She also says that the best part about playing volleyball is "developing skills and learning life lessons that are useful on and off the court."
Her message resonates with the team. Senior, Iliana Acosta, says "Coach Kelly taught me very important life lessons over the past few years that I will carry with me outside of volleyball, especially the importance of being a team player." Senior, Maria Gomez, adds that she loved being a part of the program, and Coach Kelly taught her "ideas and lessons that applied on and off the court."
Coach Kelly's favorite part about coaching is "watching the girls develop into great athletes and people. I emphasize leadership, confidence and mental toughness and hope they can apply these skills throughout their lives." As a member of the Volleyball team, I have loved my experience being a part of Caldwell Volleyball and working with Coach Kelly. As a Coach she encourages her team to do their best, and instills confidence in everyone. She is truly passionate about the game, and made volleyball an unforgettable experience. Next season, Coach Kelly hopes to have a winning record, and make it to the second round of the county and state tournaments. I have no doubt that Coach Kelly will help the team accomplish their goals.