In Case You Slept Through The Thanksgiving Parade And The Dog Show, Here's What You Missed!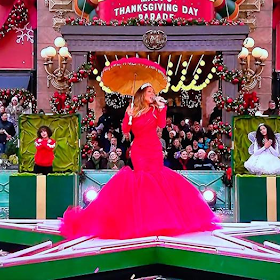 Macy's Thanksgiving Parade
Starting off strong, the Macy's Thanksgiving Parade opened their performances with a song from Lea Michele and the cast of "Funny Girl" singing "Don't Rain on My Parade". Lea Michele recently joined the cast of "Funny Girl" earlier this year and the song was a perfect way to open the parade. This year the Macy's Thanksgiving Parade introduced several new balloons which included Bluey the Dog, based off of the Australian Kids Show "Bluey," Baby Shark, which was a huge hit a few years ago still holding its popularity today, and the US Soccer Star Striker in celebration of the World Cup.
Also, the parade introduced many new floats including "The Wondership," a float based off of the Wonder Bread company as it is celebrating its 101st anniversary. John Steed, the Vice President at Flower Foods explains, "What better way to commemorate a historic moment in Wonder history than to team up with another iconic American brand at its biggest celebration of the year? Like Wonder Bread, the Macy's Thanksgiving Day Parade is a cherished tradition for many American families as they come together to celebrate Thanksgiving."
The parade also included a float called SlumberLand based off of Little Nemo in Slumberland, which was recently turned into a fantasy adventure film released on Netflix. Finally, the native Wampanoag Tribe was celebrated and honored in the Macy's Day Parade float called "People of The First Light." Elders of the tribe were honored and rode on the float which was inspired by their culture, including strawberries, wampum shells, sweetgrass, and sassafrass. To top it all off Mariah Carrey, who has finally defrosted, performed the finale with the iconic song "All I Want For Christmas Is You" welcoming the holiday spirit.
2022 National Dog Show
This year, the National Dog Show was quite the shocker. Winston the French Bulldog became the first ever dog of his kind to win best in show. Winston is not new to the dog show crowd. With 78 best in show titles, it is no wonder Winston took the first place prize this year. Winston's temperament, weight, physical ability and appearance were almost exactly spot on for his breed.
Host David Frei claims that the dogs "have to be perfect specimens of their breed. They have to have all of the things that their standard calls for, but they also have to have a little bit of showmanship, charisma, whatever you want it to be…" and Winston has exactly that.
This Year three new dog breeds made their debut as they competed for a spot at the top. The Bracco Italiano competed in the sporting group, the Mudi, originating from Hungary, competed in the herding group and finally the Russian Toy gave its best shot in the toy group.