A Monumental Season for Dancing with the Stars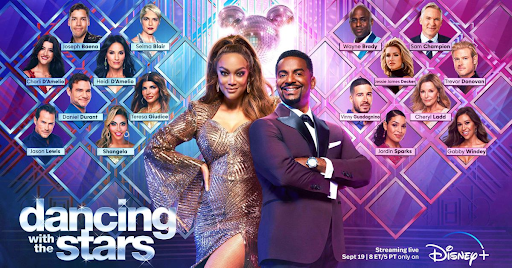 Drag queen Shangela and Selma Blair, who suffers from MS (Multiple sclerosis), have made history on Dancing with the Stars this season.
The hit series Dancing with the Stars centers around celebrities performing choreographed dance routines in front of classically trained ballroom judges. Each week, one couple is eliminated when they have the lowest points of the judges scores and audience votes combined.
Season 31 has been a big season with stars such as Selma Blair, Shangela, Charli D'Amelio, Jordin Sparks and more. However, this season is memorable as Selma Blair performed as the first person with diagnosed MS, which is a disease where one's immune system damages their nerve system, causing a disruption in communication between the brain and the body. Also, Shangela, otherwise known as DJ Pierce, is an American drag queen who is making history as the first drag queen on the show.
Shangela, who goes by she/her pronouns in drag and he/him out of drag, is the first male to be partnered with another male. Last season, Jenna Johnson and Jojo Siwa were the first female and female couple, and this year Gleb Savchenko and Shangela are the first male and male couple (Dimaano).
Shangela has done an outstanding job in the competition so far. Shangela explained how excited she is to be the first drag queen on the show. She told Reality Tea, "I'm the first person to ever be able to compete in drag on 'Dancing with the Stars' in the history of the show here, so I hope that we show people that it's all about the heart and soul of who you are as a person." She continues to say, "It doesn't matter if it's two men dancing together, if it's a man or a drag entertainer like myself dancing together. It's about the spirit of dance and the fun, and the ability to connect and to learn more about other people's worlds." Last week, Shangela and Gleb received their first perfect score (10s from each judge) of the season after performing a chilling Halloween dance.
Selma Blair, best known for her role as Vivian in Legally Blonde, was diagnosed with MS in 2018. Blair joined Dancing with the Stars despite her illness. She started off the show extremely strong, with high scores and was a fan favorite. However, when week four came around she announced that it would be her last dance of the season. After not getting the results she wanted in her MRI, her doctor suggested that she should not continue and play it safe. In the episode she says,"I can't go on with the competition," she said. "I pushed as far as I could. With a chronic illness, you do have special considerations and my body is definitely taking a hit. It's way too much for the safety of my bones." She explained that she wants to be there for her son and that he is her number one priority. She said that she wants to remain in the best shape she can to take care of her son (Archie). Nevertheless, Selma Blair made an impact for those who suffer from MS and showed us that anything is possible.