Bring Back the "Paper" in "Newspaper"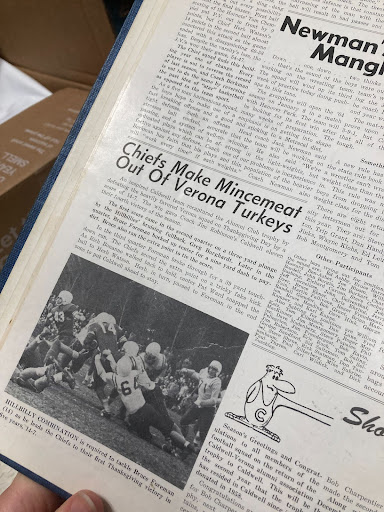 Alexandra Li: Just a few weeks ago, Grace Szostak and I went down to the library in search of the controversial 2005 issue of The Caldron, featuring the ACLU-backed article "Let's Talk About S—." But rather than finding that article (which we did not), Grace and I found dozens of issues of past prints of The Caldron. Sifting through their old, lively pages, I found a renewed appreciation for the lost art of printed press. What The Caldron needs most is not an upgraded WordPress membership or even more publicity (though both would help)—the true way forward is bringing back the printing press.
Being The Caldron's webmaster, it may seem ironic that I am advocating for the transition back to paper. But having served as the Grover Cleveland Middle School's Magazine Editor-in-Chief, where I continued the long-lived tradition of designing print issues, I have always been a firm supporter of paper. Print issues are more than copy-paste, as WordPress can be. Designing issues of The Caldron's 1960s-1990s caliber is an artistic endeavor. It involves serious consideration of not only content, but physical presentation. Classic newspaper features, like crosswords, word searches, and trivia questions, could be revived. Articles, now reduced to mere webpages, could have far more dynamic formatting and structure without an expensive WordPress subscription. Print issues bring a whole other level of complexity, artistry, and hands-on engagement that would transform our Newspaper Club into a truly inventive and intensive commitment that would not only further engage the student body, but readership too.
Data shows that print issues are far more popular than their digital counterparts. According to one recent survey on the popularity of print, only 29% of American readers reported favoring online media as opposed to physical media (Gavin). Another study conducted by Brown University reported that 92% of readers reported concentrating better when reading print (Allcot). Bringing back printed newspapers, a rarity in our modern world, will intrigue and further engage our readership, which could open the door to advertising revenue and expansion of The Caldron. All in all, printed issues are the way forward for The Caldron.
Grace: Physical media is a dying art. No longer do DVDs or VHS tapes adorn the walls of video stores, nor do many forms of physical music (with the obvious exception of vinyl records, which have experienced a resurgence in popularity in recent years). Thousands of smaller newspapers have gone exclusively digital within the past few decades. To me, this is an unfortunate fact that must be remedied. The experience of being able to physically hold a print newspaper in one's hands is greatly valuable, and can be instrumental in encouraging increased readership of the Caldron.
As someone who avidly collects records, cassette tapes, VHS tapes, 8 track tapes, CDs, and more, I obviously greatly appreciate physical media and its importance to consuming media in a meaningful and concrete way. So much of the aesthetic value of a given printed paper when moved to a digital space. Don't get me wrong, there is value to be found in digital spaces, but I believe that newspapers and other read formats are best when presented in a physical form. More effort would be necessary in order for the Caldron to be brought back into print, yes, but I truly believe the benefits would far outweigh the costs. This increased need for effort may even bring more people onto the staff of the Caldron, as it would encourage artistic expression in a way that is not currently available to JCHS students (formatting and design).
Additionally, bringing the paper back into print would greatly assist in preserving the history of the paper for years to come. This idea started with exploring the physical archives of the Caldron, and should result in that same thing for many generations down the line. Despite what many say, the internet may not last forever, so greater demand should be placed on archival efforts of any and all media that may be lost to time. Printing the Caldron will bring back many of the things that once made it great such as visually interesting spreads and advertisements from local businesses. The world needs print media, and so does the Caldron.