Infidelity in Boston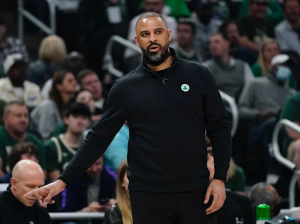 In late September, the Boston Celtics organization announced the suspension of finalist-leading head coach Ime Udoka due to infidelity and sexual misconduct. The suspension is being carried out for the whole 2022-23 season, with the ban being lifted on June 30, 2023. Joe Mazzulla, the assistant coach of Boston, has now been promoted to interim head coach.
Udoka, who was previously in a committed 12-year-long relationship with actress Nia Long, admitted to being in a consensual relationship with a female member of the Boston Celtics staff. Because the woman Udoka was with was a part of the Boston Celtics organization, it was a violation of team policies leading to severe punishment. The announcement was a surprise for the whole league, as a man who seemed like the epitome of a family man was found cheating on his soon-to-be wife and stepson.
NBA legend and former Boston Celtic Shaquille O'Neal, a man of infidelity himself, had a couple of words to say about the situation. O'Neal during his time in the NBA had a few scandals and was known to be a cheater. Giving advice to Udoka and the general public in an article from Marca, O'Neal said "It is not worth it. Let me tell you why. The happiest days of my life were coming home and hearing six different people say, 'Daddy, daddy, daddy.' Happiest days of my life. Forget the money, forget the cars, even forget the championships" (Marca).
Without the guidance of the prolific head coach, the Celtics could project to have a worse season than usual. Udoka seems to have the experience of a veteran coach, having a deep history of coaching in the NBA, taking numerous assistant coaching jobs for the San Antonio Spurs and the Brooklyn Nets before landing the head position in Boston.
Udoka had released a statement of his own. In it, he apologized for the people he's hurt, and the problems he caused. According to Malika Andrews of ESPN, Udoka said "I want to apologize to our players, fans, the entire Celtics organization, and my family for letting them down. I am sorry for putting the team in this difficult situation, and I accept the team's decision. Out of respect for everyone involved, I will have no further comment."
As of now, the suspension is still active and Udoka will be suspended for the whole season.