Judge's 62nd Home Run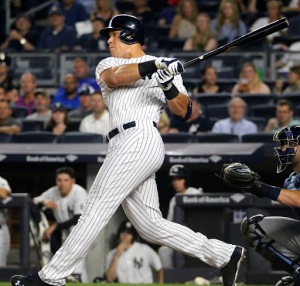 On October 4th, New York Yankees player Aaron Judge hit his 62nd home run of the year, breaking the record of single-season home runs in major league baseball history (Li).
In the first inning of the Rangers v. Yankees game at Globe Life Field, Judge blasted Jesus Tinoco's pitch at 100.2 mph, sending it 391 feet over the left-field wall ("Jesus Tinoco"). Judge proudly circled the bases while receiving a standing ovation from fans all throughout the stadium.
Judge's home run broke a tie with Roger Maris' previously set record, who hit 61 home runs in 1961 ("Roger Maris"). Maris was a former outfielder for the New York Yankees, who played twelve seasons in Major League Baseball.
Looking back on the previously set homerun records, and Judge's record breaking hit, Yankee fan and Caldwell Senior Danielle Perry shared her excitement about the historic moment, exclaiming: "Judge's historic hit is influential for not only the Yankees, but also for New York, and will hopefully help the Yankees succeed in the postseason."

When asked about what he would remember most from the moment, Judge replied, "The fans. The fans at home, the fans on the road. The constant support; seeing Yankee Stadium on their feet for every single at-bat. They were booing pitchers for throwing balls, which I've never seen before. I think I got a base hit the other night, and I was getting booed for a single. It's just little moments like that you look back on."