School Issued Dell Laptops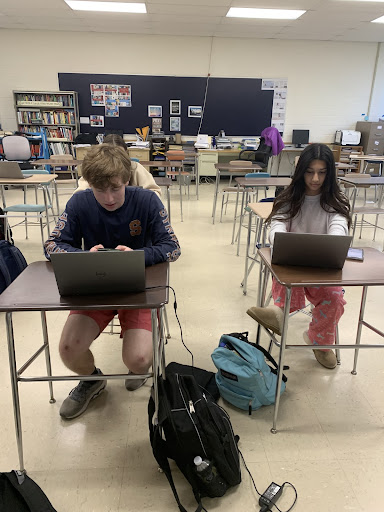 This past fall, James Caldwell High School students received their own individual Dell Laptop. There has since been much mixed feedback on the laptops from both students and teachers alike. Students have expressed difficulties with their laptops, with random shut-downs, short battery life, and an inconsistent, problematic touchpad. However, it is important to acknowledge that every student having access to their own, uniform laptops allows students to access their classwork all the time. Not all students have access to a high-tech computer at home, and many have had to borrow a school's chromebook previously. The Dell laptops are a unifier, allowing everyone a baseline level of quality and access to technology, acting as a way for all students to be connected.
In February, there was a patch issued to all student computers to help with some common technical issues. This patch was specifically designed to improve the trackpads and help increase the battery life on the computers. There has been a decrease of technological problems but students have still dealt with poor battery life and laptops shutting down unexpectedly during use.
In a survey taken by the school's yearbook, 93% of senior students preferred to bring their own laptops from home and only 7% preferred the school laptops. A majority of students, not just seniors, have preferred to bring their own laptops from home. Asking one sophomore student if she is satisfied with the school laptops, she expressed, "The idea came from a good place, but frankly, the execution was not satisfactory. There have been many problems with the computers. The Dells have flaws and very annoying quirks including poor battery life, problematic touch pads (I constantly use a mouse for that reason), and overall slow loading speeds that plague school computers all around. So I would say no, I am not very satisfied with school laptops. And for a personal experience, my laptop broke for an unknown reason and it was sent away for repair. It was gone for nearly two months, which was very disappointing. Two months to get a simple repair. I had to use this really bad Chromebook, which hindered my progress in school because I couldn't even load certain documents and sites.
"On a positive note, I will say that the Dell Laptops are definitely a step up from the Chromebooks, and I do prefer the school laptops rather than bringing your own device policy. I know that people would bring in their Macbooks and just start texting, which is not what we are looking for in school. Overall, I do think the Dell Laptops are an improvement but perhaps there could've been better ways to issue and go about with them." Like the student interview, many students don't mind the school laptops but aren't satisfied with the issues that come with the laptops which are inconvenient when doing school assignments. 
Many teachers have expressed a more positive outlook on the laptops, expressing how all students having their own laptop is very beneficial in the classroom. When speaking to teacher Evan McLaughlin on how he thinks the Dell Laptops have improved classroom performance, he says, "It is a cool opportunity. Students have access to the internet all the time for class. There are a lot more learning opportunities to take advantage of. It was nice when we came back from COVID every student and teacher have compatible devices. Instead of teachers having to run back and forth to the copy machines to hand out paper copies of assignments, students and teachers both have access to google classroom on their laptops."
Since the laptops have been handed out to students, a handful of students have had their laptops sent out for repair. Some students may have had broken screens, touch pads, or other unidentifiable technical problems. Mrs. Stafford, the school librarian who has been handling all problems with the laptops said, "We had some issues with students breaking their laptops and their screens. Students need to be more careful, we had many broken screens and computers that had to go out for repair. There were some glitches in the computers when they were first handed out to students but the technological issues have been improved over time."
The Dell Laptops have been a beneficial component in the school environment as all JCHS students have access to the internet at all times. However, the laptops have received some negative feedback from students due to the laptops constant technical problems. Most students do not mind the school laptops but the technical problems the laptops come with, have received negative feedback on the laptops. If the school laptops didn't have as many constant technical issues, a greater percentage of students would not mind having to use the school laptops.