The Met Opera's 2022-2023 Season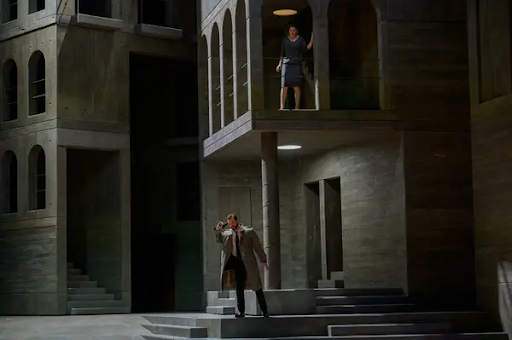 Saying the coronavirus was "rough" for the Met Opera would be a gross understatement. The pandemic shut the Opera for 18 months, resulting in a loss of $150 million in anticipated revenue (NY Times). But it seems that things are headed for the better—attendance is now at around 64%, less than the pre-pandemic levels of 75% but a promising sign of what is to come (NY Times). For the 2022-23 season, which begins on September 27, will feature a 23 production diverse mix of modern, like Champion, and classics, like Tosca. Of the 23, 13 will be Italian, 4 will be in German, 4 will be in English, 1 will be Russian, and 1 will be in French (WQXR). There will be fourteen composers represented, them being:
Verdi (Aïda, Don Carlo, Falstaff, Rigoletto, La Traviata)
Mozart (Don Giovanni, Die Zauberflöte, Idomeneo, The Magic Flute)
Puccini (La Bohème, Tosca)
Wagner (Lohengrin, Der fliegende Hölländer)
Bellini (Norma)
Blanchard (Champion)
Britten (Peter Grimes)
Cherubini (Medea)
Donizetti (L'Elisir d'Amore)
Giordano (Fedora)
Poulenc (Les Dialogues des Carmelites)
Puts (The Hours)
Shostakovich (Lady Macbeth of Mtsensk)
Strauss (Der Rosenkavalier)
The Met will start with its company premiere of Cherubini's Medea. Based on the story of Medea, it will star soprano Sondra Radvanovsky alongside tenor Matthew Polenzani. Many soprano stars, including Maria Callas, have performed this 225-year old classic, which will finally premiere at the Met.
In November, Renée Fleming will make her highly anticipated return to the Met with Kevin Puts's The Hours. This modern work is based on Michael Cunningham's groundbreaking novel of the same name and will also feature soprano Kelli O'Hara and mezzo-soprano Joyce DiDonato (Met Opera).
Giordano's Fedora will premiere with the Met's New Year's Eve Gala and will star soprano Sonya Yoncheva alongside tenor Piotr Beczała and soprano Rosa Feola (Met Opera).
Wagner's Lohengrin will then follow, featuring sopranos Tamara Wilson, Elena Stikhina, and Christine Goerke. François Girard will direct, an exciting development, as his 2013 production of Parsifal was a major hit. Lohengrin, known for its "glorious" music and "compelling" storyline, has the potential to be an amazing production (WQXR).
Terence Blanchard's Fire Shut Up In My Bones was a major success for the Met and Blancard. In the upcoming season, the Met will premiere Blanchard's other work Champion, the story of closeted boxer Emile Griffith featuring Ryan Speedo Green and Eric Owens (NY Times).
Starting in May, the Met will stage two back-to-back Mozart operas: Don Giovanni and Die Zauberflöte. Both works are new to the Met, with Don Giovanni being notoriously difficult to stage with its rapid scene changes (WQXR).
In September, Mozart's Idomeneo will make its return starring tenor Michael Spyres, mezzo-soprano Kate Lindsey, and soprano Ying Fang (Met Opera). Shostakovich's Lady Macbeth of Mtsensk will also make its return for the first time since 2014, starring soprano Eva-Maria Westbroek and tenor Brandon Jovanovich (Met Opera).
In October, Puccini's Tosca will make its return with another run in the spring of 2023. It will feature sopranos Aleksandra Kurzak, Hibla Gerzmava, and Angela Gheorghiu and tenors Michael Fabiano, Roberto Alagna, and Yusif Eyvazov (Met Opera). Tenor Allan Clayton will take on the title role of Britten's Peter Grimes, and Verdi's La Traviata will feature sopranos Nadine Sierra, Ermonela Jaho, and Angel Blue; tenors Stephen Costello, Ismael Jordi, and Dmytro Popov; and baritones Luca Salsi, Amartuvshin Enkhbat, and Artur Ruciński (Met Opera).
In December, Verdi's Aida, starring sopranos Latonia Moore and Michelle Bradley, will return (Met Opera). Mozart's The Magic Flute will return for the holidays, a favorite Met tradition (Met Opera).
In January, Donizetti's L'Elisir d'Amore and Poulenc's Dialogues des Carmélites will appear (Met Opera). February will feature Bellini's Norma (Met Opera).
March will feature Verdi's Falstaff and Strauss's Der Rosenkavalier. In particular, Daniele Rustioni's production of Falstaff is highly anticipated following the success of his work with Rigoletto (WQXR).
April will feature Puccini's La Bohème, and May will feature Wagner's Der Fliegende Holländer, with the latter being conducted by Jaap van Zweden (WQXR).
Overall, it looks as if we are in for an exciting and diverse season at the Met. Despite a lack of Rossini and French opera in general, this new season features interesting casts and many renown directors and conductors. It's time to get excited for opera season!