Boys and Girls Basketball Strong Season comes to an End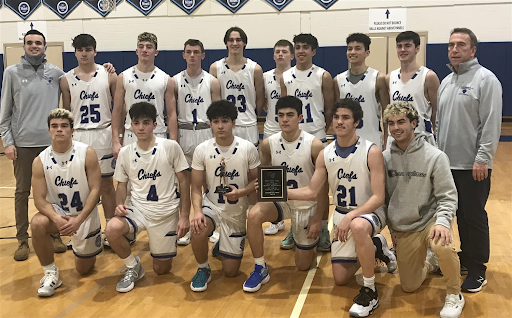 If you were ever at the JCHS gym after school this winter, you would know that both the boys and girls basketball teams were must-see action. Both teams made deep runs in both Essex and State competition, and they had strong regular seasons.
The Boys Team was one of the best stories of the state's basketball season. It was a season to remember as the team played an entertaining style of basketball all year long, being a fun and electric offense as well as being very competitive defensively, even with their lack of size compared to other teams.
All season long the team received great guard play from senior Cristian Talavera and junior Ray Zamloot.  Both had memorable performances this season, such as Talavera's 33 points in a big time win in the Essex County Tournament (ECT) against Newark East Side, and Zamloot putting up a season high 28 points against Cedar Grove in the West Essex Tournament.  Juniors Rocco Checchetto and Lorenzo Sozio provided great guard play for the team as well.  The team was considered undersized for the most part, but Senior Ian Mattison and Junior Ryan Lawerence provided energy down low on both ends of the floor throughout the year.  
Although their season ended in a tough way, the team achieved a lot and put the JCHS basketball program on the map.  They achieved the first 21 win or more season in school history, with an amazing record to 24-4.  They were also 14-1 in Super Essex Conference play.  They also reached the Essex County Tournament Semi-Final for the first time in school history, and reached the school's first State Final since 1987.  They were also victorious in the West Essex Holiday Tournament earlier in the year.  It was a season to remember and everyone should be proud of the achievements they accomplished.  
The girls team had an impressive season as well. The team finished with a record of 19-9 and finished 11-1 in Super Essex Conference play. One of the most impressive games of the season was taking down Lodi with a final score of 57-9 in the first round of States. In this game, the Chiefs held Lodi to zero total points in both the first and fourth quarter.
In the next round of States, the Chiefs picked up an impressive win against Newark Central 54-50.  The Chiefs controlled most of the game until Newark sparked a 25 point fourth quarter, but the Chiefs kept their composure and secured the win.  Newark Central lost just once in SEC play, making for an impressive state victory.  They would go on to lose in the semi finals in a very intense overtime game against Hackettstown, but nonetheless the team had an impressive state run.  
The team was very well-rounded, having 6 players score for more than 100 total points this season. These players were a mix of underclasswomen, Juniors and Seniors, including Sophomore Kayla Ishigami (247), Juniors Cassidy Brown (216), Shayne Stafford (142) and Lauren Sanderson (339) and Seniors Ashlee Rodriguez (138) and Nikki Raslowsky (123). Seniors Ava Pannullo, Emily Hessberger and Kelly Bambrick brought major contributions to the team throughout the season as well.
Overall it was a fun season of basketball at James Caldwell Highschool.  There are lots of reasons to be proud of both the girls and boys teams, and people should already be looking forward to next year.  
Source:
https://highschoolsports.nj.com/school/west-caldwell-caldwell/girlsbasketball/season/2021-2022/stats