The MetLife Experience: From the Sidelines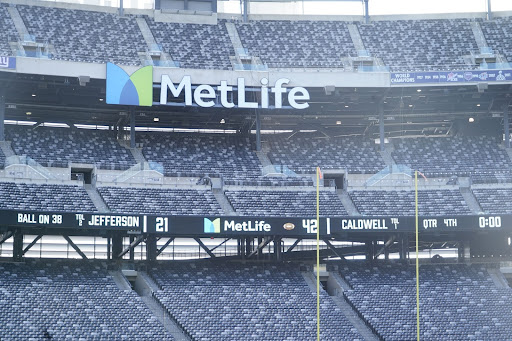 The James Caldwell High School Varsity football team had an unforgettable 2021 season. Winning every game and becoming State Champions at MetLife Stadium was beyond belief for the Caldwell-West Community. While this season was extremely exciting for the football players, the cheerleaders also got to feel the exhilaration.
Each week, the JCHS Varsity Cheerleaders would practice for their next Friday game. The seemingly never ending cycle of practices were all worth it for the Friday night games. With each game getting more exciting, the ladies knew this would be a season they would never forget.
Feelings such as fear, anticipation, and excitement flooded the cheerleading team as they got ready for their last game on Bonnell Field versus Hanover Park. As each play occurred, they continued to cheer on their team and lead the players to victory. With each touchdown, the adrenaline increased as the cheerleaders ran to the end zone. When the game finished and the Tribe rushed onto the field, it was official, Caldwell was going to MetLife!
With a once in a lifetime experience coming up, the cheerleaders continued to practice and make sure their stunts were in perfect shape for the big game. As the day approached, they painted signs, decorated the players' houses, and also continued to practice.
When the day came, the cheerleaders were excited as ever to step onto MetLife Stadium's field. The bus ride, walk through the stadium, and finally, the first steps onto the field were all incredible. Despite the cold conditions, the cheerleaders took it all in. They cheered as loud as ever when the football players ran through the gauntlet onto the field one last time. 
As the game progressed, the cheerleaders continued to cheer on the players and get the fans excited. When the score got close, the cheerleading team watched with nervous anticipation of the next play. As each touchdown was scored, they ran to the endzone, still in disbelief that they were at MetLife Stadium.
The score grew higher, as did the excitement. Each time the team scored, the cheerleaders counted the number of points, tossing the flyers to each side of their stunt called the "pendulum."
The end of the fourth quarter was approaching, and it was clear that Caldwell was going to be the winner. The complete disbelief that they cheered at MetLife Stadium, and that Caldwell became North Group 2 State Champs had set in.
To say the least, this was an unforgettable experience for not only the football team, but also the cheerleaders. Not many people can say that they have walked, forget cheered, in MetLife Stadium, but the JCHS Varsity Cheerleading team can say that they have done both, with pride.