2022 Beijing Olympics Men's Figure Skating Recap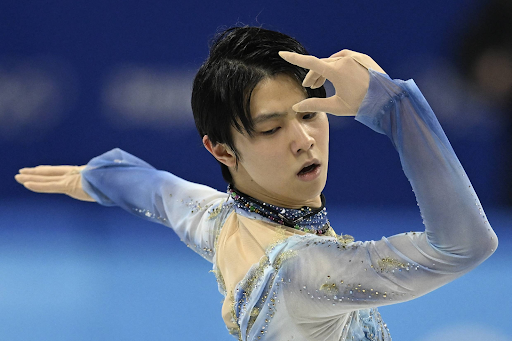 As the Winter Olympics competition has begun, figure skating remains a prominent and competitive event in the Olympics. Figure Skating entered the Olympics at the 1908 London Summer Olympics but transferred to a winter event in 1924. Since then, figure skating became one of the most popular events in the Winter Olympics and fans worldwide were eager to see the competition in Beijing this year. 
Yuzuru Hanyu, a two time Olympic gold medalist, is said to be one of the world's best figure skaters and returned to perform at this year's Olympic games. He is a very beloved figure skater and is very highly praised for his unique costumes that really make him stand out from other competitors. During this year's men's free skate, Hanyu attempted a quadruple axel which had never been done before in competition, but he was ultimately unsuccessful. He ended up making 4th place in the free skate and fans were disappointed. Hanyu was content with not landing a successful quadruple axel and placing 4th saying that "This Olympics was a challenge and I gave it everything I have" (Hanyu Yuzuru). Yuzru Hanyu plans on returning to the next Winter Olympics and attempting to take another gold medal home.
This year's Olympics has been a great success for American figure skaters. Nathan Chen accepted his first gold olympic medal during the Men's Singles. He took gold this past week combining a world record Short Program score of 113.97 with a 218.63 point Free Skating score. Nathan Chen was the first male American figure skater to take gold in the Men's Singles since the 2010 Vancouver Olympics. This has been an amazing accomplishment for Nathan Chen and USA's figure skaters alike. Like Yuzuru Hanyu, Nathan Chen also plans to return to the 2026 games hosted in Milan, Italy. Beijing has been a great success to many but the competition has just begun and there are many more gold medals awaiting to be won.
Sources:
https://olympics.com/en/beijing-2022/sports/figure-skatin
https://olympics.com/en/news/hanyu-yuzuru-beijing-2022-free
https://www.washingtonpost.com/sports/olympics/interactive/2022/how-yuzuru-hanyu-nearly-landed-quadruple-axel/
https://www.nbcnews.com/news/olympics/usas-nathan-chen-wins-figure-skating-gold-beijing-rcna15643