Adam Kinzinger: Integrity During a Time of Partisanship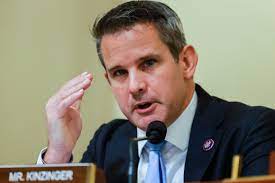 Reaching across the aisle, something that was once commonplace, has now become the last resort for almost all American politicians. Their positions and statements come from what is good for their reelection, not what is good for the country, and it has led to divisive, partisan, and oftentimes hateful politics. Adam Kinzinger, a Republican Representative from Illinois's 16th district, has pushed back against the new normal and has broken away from the Republican Party to do what he believes is right.
Prior to his most notable diversion from the party, speaking out against former President Donald Trump for his actions on January 6, 2021 that led to a riot and destruction at the Capitol, Kinzinger had always had an open mind in the House. During the former president's first impeachment trial, Kinzinger said he "went into that [the trial] with an open mind" (Cupp). While the Representative did vote against the initial impeachment, his willingness to see both sides has carried through his political career.
During Donald Trump's second trial, Kinzinger voted in favor of impeachment, along with nine other Republicans and the entire Democratic caucus (Carlsen and Swasey). It was not just his action to impeach that displayed his bravery, but his willingness to publicly speak out against the former President as well as against senators for not voting to convict the President, saying he was "disappointed" ("Rep. Kinzinger Statement"). He now serves on the committee investigating the actions of the former President as one of only two Republicans, once again having an open mind, saying that he "was not 'yet' ready to declare the former President guilty of a crime", but was looking at the investigation (Luscombe). Both during and after Donald Trump's term, Kinzinger has been willing to remove the "R" that is attached to his name and look at issues objectively, not through the lens of a party.
Straying away from party lines can have disastrous effects on one's political career, and these consequences have begun to rear their ugly heads to the Representative. Politically, his seat was already in jeopardy before redistricting, which could remove his seat entirely (Mutnick). He has been faced with a decision: to attempt to stay in politics, making a run for governor or senator, or to step away from politics, at least for the time being (Seddiq). Kinzinger is not letting election to public office monopolize his time, as he is still focused on acting as a representative for the people of Illinois, putting their needs above his own political career.
Not only has he put his constituents above his own career, he has prioritized them above his extended family. Following Kinzinger's stand against Donald Trump and his actions, specifically on January 6th, the congressman received a handwritten letter from eleven of his family members, calling him a "disappointment'" and saying that he "'embarrassed the Kinzinger family name'" (Klein). Kinzinger took this in stride and used it as an example of the divide facing the American people (Grayer). He sees the emotional strain that this has placed on his own life, as well as the lives of many Americans, and he published the remarks from his family to prove the point that one's morals can lead to frayed relationships, but that these losses are a necessary price for sticking to his morals. He showed the American people that his life, like many of theirs, has not been spared from familial arguments during this trying time, giving them comfort and confidence moving forward.
The Republican Representative has not only reached across the aisle regarding matters relating to the January 6th attack, however. Gun control has been a highly debated and polarizing issue in American politics since the Columbine school shooting in 1999. After that tragic event, the two major political parties have taken strong stances regarding gun control and gun legislation, with Democrats wanting more regulation including universal background checks, and Republicans wanting less oversight over their Second Amendment rights. Kinzinger is the exception. Following a rise in mass school shootings in the United States, he pushed for legislation which would "ban the sale of firearms to Americans under the age of 21" (Crowe). He cited the fact that many of the shooters were enrolled or recently enrolled in the attacked schools, and that it was "carried out with legally purchased weapons" (Crowe). Once again holding true to his morals in the face of adversity and backlash, the Illinois Representative saw his grade from the National Rifle Association (NRA) drop from an A to a D after these remarks (Astor).
Kinzinger's steadfast opposition to his own party has forced him out of politics for the time being as he is not running for reelection to the United States House of Representatives (Shabad). His actions against former President Donald Trump required him to face repercussions not only from members of his own party but members of his own family. Kinzinger has lost relationships and his political position because of the stand he has taken, but standing firm for what one believes is right, even at the risk of losing so much, is one of the most valuable qualities that a leader can hold. His mission to fight for what he deems right is admirable, courageous, and should serve as an example for his colleagues on Capitol Hill. 
Sources (Works Cited)
Works Cited
Astor, Maggie. "The N.R.A.'s New Candidate Grades Show a Continuing Decline in Support." The New York Times, The New York Times, 9 Sept. 2020, www.nytimes.com/2020/09/09/us/elections/the-nras-new-candidate-grades-show-a-continuing-decline-in-support.html.
Crowe, Jack. "GOP Rep. Calls for Raising Gun-Purchase Age to 21 in Response to Mass Shootings." National Review, National Review, 6 Aug. 2019, www.nationalreview.com/news/adam-kinzinger-calls-for-raising-gun-purchase-age-to-21/.
Cupp, S.E. "Tucker Carlson Is a 'Manipulative Son of a Bitch' — and Other Thoughts from Adam Kinzinger." Rolling Stone, Rolling Stone, 8 Nov. 2021, www.rollingstone.com/politics/politics-features/adam-kinzinger-tucker-carlson-january6-trump-insurrection-1254648/.
Grayer, Annie. "Adam Kinzinger Says He's Glad Family Letter Was Released so Americans Could See the Real Divides over Trump." CNN, Cable News Network, 23 Feb. 2021, www.cnn.com/2021/02/22/politics/adam-kinzinger-family-cnntv/index.html.
Klein, Charlotte. "Adam Kinzinger's Family Calls Him a 'Disappointment to God' for Standing up to Trump." Vanity Fair, Vanity Fair, 16 Feb. 2021, www.vanityfair.com/news/2021/02/adam-kinzingers-family-calls-him-disappointment-to-god-for-standing-up-to-trump.
Luscombe, Richard. "Capitol Attack Panel Will Determine If Trump Committed Crime – Republican." The Guardian, Guardian News and Media, 19 Dec. 2021, www.theguardian.com/us-news/2021/dec/19/capitol-attack-committee-trump-crime-adam-kinzinger.
Mutnick, Ally. "How Screwed Is Adam Kinzinger?" POLITICO, POLITICO, 25 Aug. 2021, www.politico.com/news/2021/08/25/adam-kinzinger-illinois-democrats-506861.
"Rep. Kinzinger Statement on Senate's Acquittal." Congressman Adam Kinzinger, 13 Feb. 2021, kinzinger.house.gov/news/documentsingle.aspx?DocumentID=402607.
Seddiq, Oma. "GOP Rep. Adam Kinzinger Could Lose His Seat in Redistricting Process but Says He Won't 'Rule out' a Senate or Governor Run: 'I'm Not Too Freaked out'." Business Insider, Business Insider, 25 Aug. 2021, www.businessinsider.com/adam-kinzinger-likely-to-lose-seat-considers-senate-or-governor-run-2021-8.
Shabad, Rebecca. "GOP Rep. Adam Kinzinger, an Outspoken Trump Critic, Will Not Seek Re-Election." NBCNews.com, NBCUniversal News Group, 29 Oct. 2021, www.nbcnews.com/politics/congress/gop-rep-adam-kinzinger-outspoken-trump-critic-retiring-congress-n1282715.
Swasey, Benjamin, and Audrey Carlsen. "The House Has Impeached Trump Again. Here's How House Members Voted." NPR, NPR, 13 Jan. 2021, www.npr.org/sections/trump-impeachment-effort-live-updates/2021/01/13/956412385/the-house-has-impeached-trump-again-heres-how-house-members-voted.