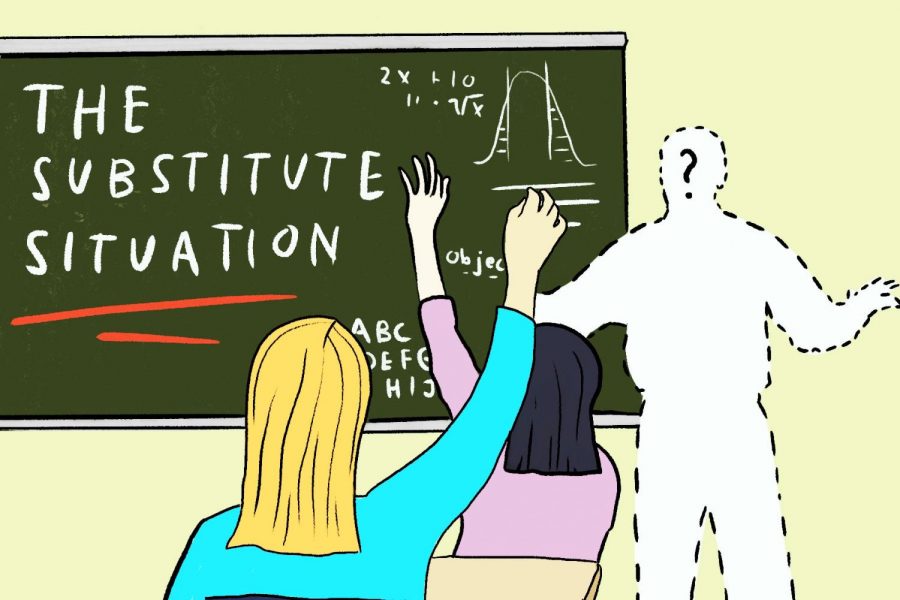 During the recent winter wave of the COVID-19 pandemic, many teachers have been infected or exposed to the virus, resulting in extended absences for faculty in compliance with public health mandates. When teachers are out, substitute teachers fill the void. While substitute teachers do their job well, and every student loves the anomaly of a day without their teacher, the extended periods of time without our teachers in the classroom has been a detriment to student learning this year. Unfortunately, the reality is that many substitutes just do not have the qualifications and expertise that a certified secondary school teacher does. Nevertheless, we are very lucky to have the subs that work at JCHS. Without them, our teachers would have to cover each other's classes, losing their prep times. Classes would also possibly have to go to the library and without a substitute teacher to implement classwork. 
Mrs. McLoughlin, a substitute teacher at our school said, "I believe that having a substitute teacher in the classroom for a long period of time for the regular classroom teacher is an enhancement to education. A substitute teacher who is skilled and knowledgeable knows to follow through with the lesson plans and make sure that the kids are on task." At our school, we are so lucky to have great substitute teachers that do implement our teachers' lesson plans and make sure that we are doing what we are supposed to be doing, but there is really no substitute for a certified teacher. Teachers know their content and their lesson plans very well. They have gone through training to be a teacher and have been a consistent part of a student's education while they are in the classroom.
When I asked Jude Bazerman his opinion he said, "Honestly, any day that I walk into one of my classes and there is a substitute teacher a bit of excitement runs through me, and I'm like 'Yes! There's a substitute teacher! Let's go; no learning!' and I think that's the issue. If you have a sub for one day, you can go with one off day. For a while though, it would really disrupt learning because if they do assign assignments, then you're just basically doing them yourself on the computer, and a lot of the time you can just look up the answers and you don't actually learn. Other times, the teacher may not be prepared to take a leave of absence and there are no assignments left for the sub to implement so you end up sitting in a class basically having a free period."
Now, during these times of COVID, teachers may have to quarantine for up to two weeks. Learning by yourself on your computer with nobody to guide you is definitely not the same as having a lesson taught to you, and then branching off independently to do your work.
I am a strong believer that having a substitute teacher for a long period of time can interrupt learning. Although we have the greatest substitute teachers, not all of them are certified to teach a class. Whether you decide to immerse yourself in a lesson while you have a substitute teacher or not, learning something new by yourself can be challenging for some students. It has been a trying time for all of us, and losing our teachers for extended periods makes me realize how important their role is in making our education successful.