The New Royal Family Member
The world has been going crazy over the new royal baby. Baby Archie was born on May 6, 2019. Meghan Markle, the Duchess of Sussex, and Prince Harry welcomed their first child. They were married almost exactly a year ago on May 19, 2018. Meghan gave birth to her son in the Portland Hospital in London at 5:26 a.m. He weighed seven pounds and three ounces. Baby Archie is seventh in line for the throne. He is behind Prince Charles (his grandfather), Prince William, the children of Prince William, and his father Prince Harry. Meghan Markle and Prince Harry, despite being the Duke and Duchess of Sussex, they decided to not give their child a title.
Many people are confused about why Meghan and Harry chose the name "Archie". Baby Archie's full name is Archibald Harrison Mountbatten-Windsor. Many were surprised by this non-traditional name. They call him Archie, as to sound more American, since Meghan is from the United States. His birth name Archibald means genuine and bold in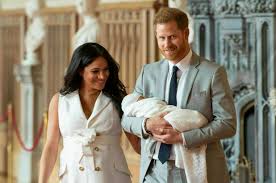 Germany. Many speculate that Archie is named after Archibald Campbell. In fact, Archibald Campbell was the 9th Earl of Argyll of Scotland. People surmise this because Princess Diana was an ancestor of Archibald. Harrison was not as surprising to the citizens of the United Kingdom. The second part of his name, Harrison, has a German origin, but the name followed Prince William into England. It originated in the Middle Ages and his name means "the son of Harry." The last part of his name, Mountbatten- Windsor, belongs to all Queen Elizabeth's and Prince Philip's children and grandchildren.
The royal baby supposedly came late. In addition, Meghan Markle and Prince Harry waited two days to announce their son's name. This was pretty quick for the royal family to announce the name of their child. It took almost a month for the royal family to announce Prince Charles's name. Archie is a calm baby, who is a very good sleeper. He is still changing and growing every day, so he looks like neither of his parents yet. Archie is a very cheerful baby, who is surrounded by a loving family and country.