These Teachers Want More than Just Apples; L.A. Teachers Begin Striking
Around 30,000 Los Angeles public-school teachers assembled the largest school strike in America on January 14, 2019. At 900 schools in the district, approximately 500,000 students' educations came to a halt as many teachers traded in their pencils for a poster to protest the district. Schools remained open, but the flood of substitute teachers hired by the city will not provide students with the proper means to continue their education, and many parents have removed their kids from classrooms.
The plan to strike came after months of negotiations between The United Teachers Los Angeles Union and the Los Angeles Unified School District. Both groups are in a deadlock over how their city should use the 1.86 billion dollars in reserves to improve schooling.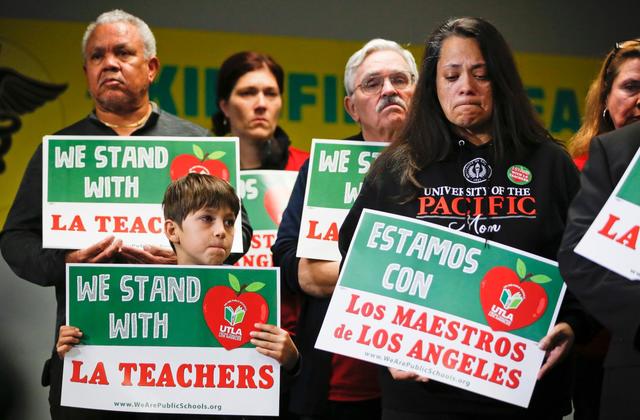 The UTLA is demanding smaller class sizes, higher wages for teachers, more nurses, guidance counselors, and librarians. The large class sizes create an issue for the amount of resources available for students. In addition, teachers' salaries in L.A. are insufficient when compared to the high cost of living in California. Also, necessary jobs such as guidance counselors and nurses are being overlooked since many L.A. public schools have focused on using funding for programs that would help students improve their standardized test scores.
The tens of thousands of L.A. teachers are determined to continue striking for days or even weeks until their demands are met by the district. These L.A. teachers believe they are doing what is best for their students and inciting change to improve their education. With this strike, public school teachers are standing up to their district; if the goals of the strike are met, both teachers and students alike will be able to create a brighter future for all.