Activities for All at the West Caldwell Library

The West Caldwell Public Library is more than just a building with books, it has a large amount of activities and resources available for all ages. As winter is approaching, there are many fun events for the holiday season and a myriad of clubs at the library, especially for teens.
If you need a quiet place to study, especially one that isn't crowded, the library has many areas to work in peace. Additionally, there are study rooms you can request, where groups of friends can do homework together without the need to be in silence. With a wide variety of books, including textbooks, the library can offer teens a prime studying area.
The library has a monthly Teen Book Club, where members read and discuss a book that is usually focused on a specific genre for that month. As of recently, pizza and snacks will be served during these meetings. It can be hard to read for pleasure during school, especially before the holiday season when work starts to pile up, but this club motivates teens to read at least one book monthly that doesn't have an assignment following it.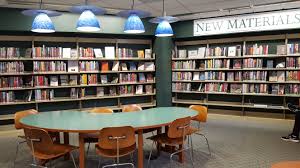 There is also a new club for teens called TV Club, where teens can discuss both upcoming shows and movies. With Netflix and Hulu, it has become easy for people to binge watch shows and gain the need to discuss with others. Talking about our favorite shows has become a common conversation starter and this club can help teens make new friends that have similar tastes, and can also open up new types of shows for teens to watch.
The best part of the library, however, is the amount of fun activities they have every month for teens. For December, there is a "Teen Cookie Swap" where teens are able to bake cookies and trade them in with friends for the holidays. Additionally for the holidays, the library will be showing "The Polar Express", a classic movie right before Christmas. For January, there is also a marble mug DIY project for teens coming up. With such a myriad of activities, teens are able to have fun and forget about their stresses for a bit.
Lastly, the library offers many volunteer opportunities for teens that helps them become more active in our town. There is the Teen Advisory Group that meets monthly, where teens can come up with ideas for upcoming events and recommend which books or movies to buy. The library also has a volunteer drop-in, where teens can come and volunteer for an hour with setting up crafts and organizing books.
Ultimately, the West Caldwell Library provides teens with so much to do and is such an underappreciated resource in our town. With its selection of books, movies, board games, and events, it can appeal to every type of person. Our library deserves more recognition and appreciation with all that it offers.