Should Author Talks and Book Signings Charge Admission?
After the slow summer months of waiting for John Green's new novel, "Turtles All The Way Down", to be released I was shocked when October 10th came upon me suddenly.  Not only was this the premiere date of the novel, but I was also going into New York City to see John, along side his brother Hank Green, for the start off of his book tour. Previously I had never been to a book talk before, although I had a base idea of what it may entail: John discussing and promoting the new novel and possibly reading a few chapters. What I experienced that night was so much more than I could have imagined. Being surrounded by nerdfighters –what the fans of John and Hank call themselves– for the night was such a humbling experience. I met people from not only all around New York, but as well as other areas of the northeast. Additionally, I did get to hear John read from "Turtles All The Way Down", answer reader's questions, conduct a podcast, and sing songs with his brother. The night was what true fans of John Green should have experienced, for only $35.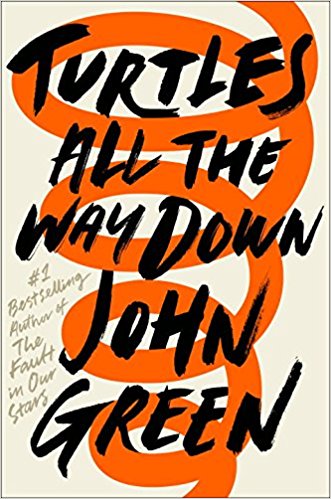 For a book talk that was being held in the Town Hall Theatre in New York, with orchestra tickets, and a signed copy of the book with the purchase of my ticket, $35 did not seem like an unreasonable price to me. However, after looking at how other authors conduct their book talks all over the United States and worldwide, I found that these talks can range anywhere from a free entry up to hundreds of dollars.
This is predominately a result of the explosion of online e-books that are available for purchase through sites such as Amazon or Google. Although print books are still in a higher demand than e-books, they have played an incredible catch up to the number of print books sold over the years.  Managers of independently owned bookstores and larger companies like Barnes and Noble have found that people are finding less of a use to come to a bookstore. Nancy Salmon, the manager of Kepler's Books in Menlo Park, California, reported to the New York Times that, "They type the titles into their iPhones and go home. We know what they're doing…we're not just an Amazon showcase" (Bosman and Ritchel). So, many independently owned bookstores started to tag a price onto many of their author events to bring revenue into their stores. Their goal is not to drive readers away from the event, but to find additional ways to bring money into the company. To relate, my talk from John Green was sponsored by Strand Bookstore in New York City, a family owned store for new, used, and rare books. The store did receive some income from my fee paid, but also from selling their merchandise and older signed John Green novels.
Another reason why there has been a need to charge admission for book tours is for the sake of the author's publishers. These publishers, Penguin Random House or Harpercollins for example, pay for the author's expenses on their trip: transports, meals, hotels, and security.  Much of the money which the reader pays to attend the event goes towards these future accommodations. Not to mention that touring these authors for the big name publishers is quite the risk; going on a tour does not reflect that book sales will be higher. With the exception of a few authors who are guaranteed an enormous profit regardless (J.K. Rowling or James Patterson) of the tour's attendance, sending authors on tours is like playing a game of chances. Noah Carney from The Atlantic reports how, "publishers only regularly pay to send authors who are compelling public speakers, authors with large established audiences who are guaranteed to sell well and therefore cover expenses. Publishers might send the odd debut writer, in hopes of more media coverage, but it's no longer a given" (Carney). For many of the writers who are just starting off, it is unknown how much money will be made off of a tour.
Primarily for these two reasons, authors and their publishers have started to charge admission for their book talks. After attending my first book talk and furthering my knowledge through research I see no reason in not paying a fee for the tour. In essence, my $35 entry fee came with a hardcover, signed copy of the new novel, which is ranging around $13 (for non signed) and $30 (for a signed) on Amazon. Really I only paid $20 for my experience that night, which after looking at other tour's prices seems reasonable. Overall, I would tell readers not to be afraid of the price tag that goes along with their favorite author's talk. If you truly adore an author, in my opinion, you wouldn't mind spending the money knowing that it is going to profit them. The money you put in, you really get out of the performances and it creates memories that you will remember forever.