Birth Order: Perks and Downfalls of being a MIDDLE CHILD!
Assuming you clicked on this article because the headline picture triggered you, you probably are a middle child, if not, you will hopefully will enjoy this article as well. Well, you probably guessed: I am a middle-child. I would like to address an inevitable part of daily life which are family and birth order. Obviously, it begins with the parents, the child being born, and growing up. My family is composed of my parents, my older brother, myself, my younger sister, and my younger brother. We all live together; we're one big happy family! –Well, no. Last time I checked, my life isn't some meaningless, generic and childish Disney channel show. We are not living in an ideal world, nonetheless, an ideal family. Recently, I started reading "Birth Order" by Dr. Kevin Leman, a third-born and baby of the family psychologist who studied birth order. As I began toting it around to class, my friends started to notice, and I started getting questions. One day I ended up explaining it to one of my friends, who was coincidentally, a middle child. From what I understood from Dr. Leman's book, the characteristics and stereotypes of siblings are typically:
First born: perfectionist, reliable, conscientious, list maker, well organized, critical, serious, scholarly
Second born: mediator, fewest pictures in the family photos, avoids conflict, independent, extreme loyalty to the peer group, many friends, a maverick
Third born: manipulative, charming, blames others, shows off, people person, good salesperson, precocious, engaging.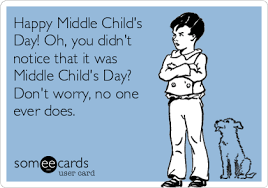 In a large number of families, these traits ring true and probably at least one of them is true in your family. When it comes to personality, most people revert to the simple comparison of an extrovert versus an introvert, but what many don't know is that birth order has a strong link to personality. Studies have shown, according to Dr. Leman, that first borns tend to be the "wonders of the world" and accomplish great things in life. For instance, Albert Einstein was a first born and grew to be amazingly successful. On the other hand, first borns have more pressure from their parents, and their perfectionist nature can pose problems in the long run.
Following Dr. Leman's description of the first born in a family is his perfect definition of a middle child.  Simply, we aren't first, but we aren't last. Since I'm in the middle of my older brother and older sister, over the years I have noticed that I seem to be the link between them. I sit in between my brother and sister in the car, and I'm usually in the middle of my older brother and younger sister fighting. When these arguments arouse, I typically try to see both sides of things, and my answers vary based upon the different sides of the arguments.
Though we have struggles and advantages we all want the same thing-love and acceptance. Though we might have many differences, and might feel like we have it better or worse than one another, we must learn to love each other in spite of our differences. Fellow middle child, or whatever other position you may be, I know it´s sometimes hard, tough times are ahead, and family issues might occur, but it´s going to be alright. As a last thought and reverting to the first picture, middle-children do have a day to be celebrated: August twelfth, Middle-Child Day. Make sure to celebrate the middle-children in your life, keep being the wonderful person you are, and don't hide your flaws or weaknesses.