Catalonia's Attempts at Independence Descend Into Chaos
On Sunday, October 1st, Spain's democracy faced levels of strain that had not been seen since the fall of the end of the Franco dictatorship in the 1970s. On this day, Catalonia, a largely autonomous region in Spain, staged a bid for independence in noncompliance with the orders of Spanish officials. Despite Spanish courts backing the Madrid government's declaration of the referendum as unconstitutional and ordering that the vote be suspended, Catalonia's defiant attempt to stage an independence referendum marched on with huddled masses gathering on rain-slick streets in the predawn hours to cast their votes across the region.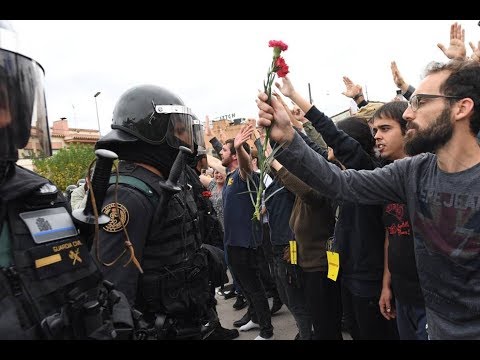 Spanish police officers outfitted in riot gear and armed with rubber bullets spread out over the area with the aim of shutting down polling stations and seizing ballots. Reports suggest that roughly 750 citizens were harmed in the clashes with police, alongside several dozen police officers who suffered from injuries.  Many voters camped out inside polling facilities out of fear that their attempts at independence would be for naught if police seized the ballots. These violent attempts at controlling the Catalans disrupted what were otherwise peaceful and festive celebrations amongst voters, but many cities carried on voting in spite of military threat. Voters could be heard singing and chanting as they got in line to cast their ballots throughout the region.
The Catalan government announced that the referendum had been approved by 90 percent of almost 2.3 million voters soon after midnight, although these percentages could not be independently confirmed.
One citizen, Mario Pulpillo, aged 54, remarked that "Spain has shown us today its ugliest and darkest face, that which we really thought had disappeared 40 years ago. You simply can't use violence against people who just want to vote."
Despite his disability and the threat of police brutality looming over his head, Mr. Pulpillo had gone to vote because he wanted to ensure that it would be a democratic victory, not "humiliation at the hands of a Spanish state that believes in repression."
It is the hope of the Catalan people that their hardships will not be for nothing. The Spanish state's denial of the referendum due to its "disruption" and subsequent tension has done nothing to quell their hopes for eventual independence. Catalonia has no plans to cease their efforts despite backlash from Spanish officials. Spanish politician Rafael Catalá has released an official statement that they do not wish to "divide Spaniards… but if someone tries to declare independence on behalf of a part of Spain's territory, that cannot be done because it is beyond their powers."