How Dear Evan Hansen Changed My Life
It is scientifically proven that music has the power to change a human being. However, that doesn't mean that it is common for a given song to come along and practically change the course of someone's life.  Sure, there are the albums by our favorite artists that we know forwards, backwards, and inside-out.  There are also the songs that we hold onto for nostalgic reasons, songs we hear just passing in school, and the tunes we have picked up from flipping through radio channels.  Humans are susceptible to hearing music everyday; however, it is not everyday that this music provides the average human being with a life-altering awakening. Before, I never knew the moment when a piece of music changed my views and my life; at least, not until the start of my freshmen year with the Broadway musical, Dear Evan Hansen.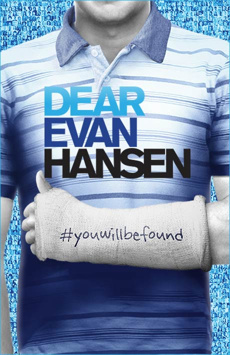 To put it briefly, Dear Evan Hansen follows the story of the protagonist, Evan Hansen.  In his high school, Evan is considered an outsider, with only one companion, Jared Kleinman.  However, the plot turns when Connor Murphy, a boy Evan knew vaguely from school, commits suicide.  Soon enough Evan gets caught in a web of lies trying to comfort Connor's family, the school, and himself.  The musical follows Evan's life as he creates his own problems while simultaneously attempting to resolve them- all while figuring out his own purpose for living. Needless to say, I loved the show more than I have ever loved anything in my entire life.  The lessons I took away from the plot will stay with me forever. Among others, these are the themes that I find most influential within the hit musical.
Just Keep Going Until You See The Sun- The first lesson I learned from Dear Evan Hansen is that you are surrounded in a world by people who love you infinitely.  Whether it be your parents, siblings, boyfriend, girlfriend, or friends; someone out there appreciates having you in their lives.  Although it may not be expressed everyday, they love you more than you can ever know.  That's the true reason to wake up every morning.  At times it may seem like the world is against you, but there will always be someone there to pick you up.
Talk and Take In The View– Secondly, Dear Evan Hansen showed me how human interactions are vital to living.  In the 21st century, it seems easier to snap, tweet, post, and upload about what is happening in our lives.  The internet is an instant connection to those around us and it only takes a few words or pictures.  However, being able to express your own emotions in words is necessary in human interaction.  Online words and true meanings get hidden in such quick responses.  Taking the time to sit with your friends without electronics is okay.  Looking at the world through your own two eyes is better than through a screen.  Taking a step back from the modernized technologies of our time isn't bad.
Believe You Can Be Who You Want To Be – The third lesson is all about embracing the imperfect things that make up your life.  No one in the entire world is perfect, and it's finally time to get over that.  Life is hard for everyone, yet we all learn, grow, and prosper.  The sooner we learn to accept the worse things in our life, we can move forward to better things.  This also relates to staying true to yourself.  Changing yourself for others and creating lies in your life is not worth it.
You Will Be Found – The last lesson to take away from the show is the most complicated to understand.  The musical's slogan, "You Will Be Found", speaks differently to everyone who sees the show.  From this play, I learned that everyone has a purpose living on this Earth.  No matter how big or small of a contribution you give to the entire world, your specific life matters.  Even when the entire world seems against you, that is no reason to give up.  "You Will Be Found" proves that change is always on the horizon and that there are people willing to help you on the ups and downs of life.  You are important and you matter.
This musical irreparably changed my life.  Starting with the beginning of my freshman year, I turned to Dear Evan Hansen at times when I felt most alone and it continues to support me to this day.  The show has provided me with life lessons I will carry on forever. Anyone who has the chance to see this musical should take that opportunity.  Dear Evan Hansen proves that none of us are alone and that we all have a purpose for being alive.